By Parker W. McClellan Jr. A.A.E., ECP Exec. Director
The COVID-19 pandemic has caused a great deal of modern-day life to stray from the norm and for many working remotely has been one of the biggest transitions. Now that some time has passed, those who have been working remotely have gotten much more acclimated and find themselves as productive as they would be in the office. With the stressful year we have all had, most of which we spent inside, people are itching to vacation, let off some steam, and finally relax. However, with some locations requiring a quarantine period prior to or after travel, the pandemic seems to have instilled yet another 2020 obstacle… or has it? Many people are taking advantage of the "work-cation" trend, a trip to a new destination to work from there for at least part of the stay. Both Northwest Florida Beaches International Airport (ECP) and its Airline Partners have seen an uptick in work-cation related travel and are ready to provide you with a safe and relaxing travel experience. If a feasible pandemic vacation sparks your interest, then read on for more travel tips.
Know before you go
To minimize stress and maximize the enjoyment from your work-cation there are a few crucial steps to take before you leave. First, ensure that your destination is work-cation friendly and will offer strong Wi-fi and cell phone coverage while also providing quiet places to work. If your kids are attending school virtually, pack their technology and any other school supplies needed for a seamless transition there too. Once you have a prime destination picked, delegate as much as possible by having an assistant, co-worker, or friends/family support your workload on instances such as answering email inquiries, paying invoices or returning customer calls as this will leave you with optimal leisure time. Next, notify your clients/customers about your upcoming work-cation and give them the heads up that you may not be as readily available as they will appreciate and respect your plans.
Once initial preparation formalities are dealt with, be sure to get as much work done ahead of time as possible to get it off your plate, giving you more time for fun and relaxation with your family. In the few days before your trip be sure to gather the necessary tools you will need to work and set a schedule of how you will allocate your time when balancing work and vacation. Also, be sure to familiarize yourself with ECP's COVID-19 safety guidelines if you haven't used the airport since before the pandemic to ensure a smooth travel experience from start to finish.
What to do when arriving at your destination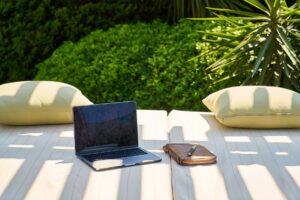 Upon arrival at your work-cation destination you'll want to find the best possible location to set up your workstation and your kids virtual learning desks to ensure you will be free of disruption to remain productive. Try to avoid answering calls if you are out and about as sometimes it is more professional to let calls go to voicemail rather than picking up at inopportune times. The main goal should be to incorporate some work into your vacation, not a little vacation into your work; so be sure to unwind and enjoy yourself once you are done with work for the day.
Working remotely can be a silver lining to this pandemic as more and more people are able to safely take work-cations with their families. When you are ready for yours, ECP and its Airline Partners will be ready to get you there.