By Peter Fischetti
So what do New York, San Francisco, Chicago, San Jose, Galveston, Phoenix and Tallahassee have in common? That's right, each of those cities has active Yugo dealers. No, that's not true. The answer is that each of those cities has a popular song about their city.
In the seven years we've lived here, Panama City Beach has grown like a weed (there are even dispensaries in town), and tourism has never been higher (probably from the dispensaries). But until the city has a song that rises to the level of "New York, New York" or "I Left My Heart in San Francisco," it is destined (Destin?) to remain in the minor leagues. "Tallahassee Lassie" just doesn't cut it.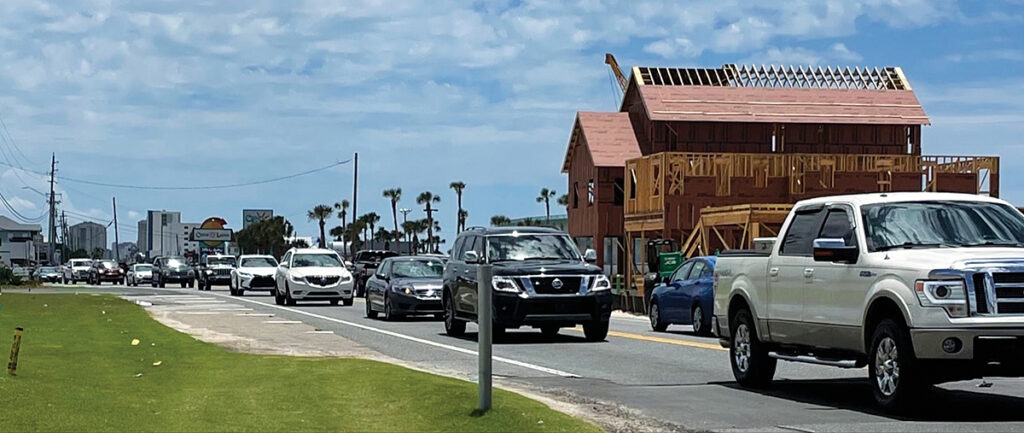 I don't write songs, but I did grow up near Paul Simon in Queens, NY. So I sent him an email asking him to visit Panama City Beach and write a song about it. Two months later, I haven't heard from him, probably because we actually have never met. Still, he could have responded.
No problem. I took the liberty of borrowing a little of the melody to "Sound of Silence," his first hit with Art Garfunkel, whom I also have never met. I wrote the lyrics while sitting in my car for more than an hour on Memorial Day weekend waiting for the light to change on Nautilus.
Here is my proposed city song, which is about congestion on our streets. It's called "Sound of Sirens."
Hello traffic, you're no friend.
But here I am with you again.
I'm in my car on Back Beach Road
Moving slower than an injured toad.
And while I need
A bathroom really near,
All I can hear
Is the dreaded
sound of sirens.
I'm headed to the Hathaway Bridge.
Going to Sam's to fill the fridge.
Then I hear the sirens wail on 98.
Must be my fate
To live within
The sound of sirens.
One weekend it's the Ironman.
And then here comes the Pepsi Jam.
Let's all welcome Thunder Beach
Wish I had headphones within my reach.
But no,
All we can do is pray
They go away.
Then all we'll hear
Are sounds of sirens
Hello tourist, our city's friend.
We sure depend on you to spend.
But leave the car at your 'Bama house.
Take a plane and maybe your spouse.
Just don't drive. There's no room for your car.
Go to a bar.
And maybe then
There would be
Fewer sounds of sirens
How lucky to live within reach
Of the world's most beautiful beach.
I guess we're gonna have to share
Even though they're getting in our hair.
Our visitors? Well they're people too.
They'll have to do.
Along with the sound of sirens.
As I mentioned, I'm no songwriter. But you knew that. I'll spare you the lyrics to my country song, "I Drove My Girl to the Landfill 'cause I Was Down in the Dumps." But while "Sound of Sirens" may paint a negative picture of Panama City Beach, even our elected officials will admit we have a real problem with traffic that will get worse long before it gets better.
I can think of two reasons why. First, Florida is so dependent on tourism that cities cannot legally use traffic congestion as a reason to refuse tourist-related development. So the residential construction continues. Second, many of the huge apartment projects on the beach are actually not in the city of Panama City Beach but in Bay County. So our city council has no voice in what's built outside city limits. Drive along Back Beach Road and you'll see a number of apartment projects with hundreds of units. I imagine most of the people occupying them drive. So there you go.
I didn't plan to get serious with this. People visit Panama City Beach for the same reason people like us move here. For the most part, it's paradise. Just don't plan to do a lot of shopping on the Fourth of July weekend.
Meanwhile, I need to find someone to record "Sound of Sirens." Anyone have the email for Steve Winwood, who formed Traffic?
Peter Fischetti is a retired journalist from Southern California, which he hopes you won't hold against him.