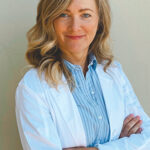 By Stacy Kehl, APRN, FNP-BC
As a nurse with over 20 years experience, I have to admit that prior to becoming the mom of a Type 1 diabetic (T1D), I had little experience with the disease. I knew the basics: Beta cell destruction, long-term chronic conditions caused by T1D (kidney disease, eye disease, heart disease), and difficult to control blood sugars. When T1D patients were admitted to the hospital, we routinely consulted endocrinology to let them manage the patient's insulin pump; pumps seemed like foreign technology left better to the specialists, and just as often, the patients themselves.
Then, December 5, 2018, happened. My then 15 year old son had been struggling for awhile with various symptoms. He had been going to the gym, weight lifting, eating healthy for months trying to work through it all. For years, we'd noticed that his growth was slower than his older brother. His pediatrician told us he was a "late bloomer," which we believed. In the months preceding his diagnosis, I noticed he had symptoms that made me think "diabetes," but with no family history of diabetes, I talked myself out of it. What I didn't know was that despite no family history, T1D prevalence has been increasing world wide; between 2001 and 2009, there was a 21% increase in the prevalence of T1D in people under age 20. And, while the risk is higher for people who have a family history of T1D (or other autoimmune diseases), sometimes there is no family history of the disease at all. Currently, some 1.6 million Americans are living with T1D, including about 200,000 youth (<20 years old) and 1.4 million adults (20 years old and older).
I decided to order some routine labs on my son on December 5, 2018, not expecting that his hemoglobin A1c would be >13% (that's equivalent to an average blood sugar of about 326mg/dl, normal is less than 100 mg/dl). We were shocked, confused, and anxious by this seemingly sudden diagnosis. Looking at his other labs, I knew he needed to be in the hospital. He was was in mild DKA (diabetic ketoacidosis, a life-threatening condition). Unfortunately, his pediatrician didn't agree with my assessment, so off to the ER we went. I knew I'd made the right decision when my son was sent to the pediatric ICU for treatment, where he spent the next 2 days. He was put on an insulin IV drip and he had finger stick blood sugars every hour until his blood chemistries normalized. His life was tossed upside down, forever.
Shock is an understatement. We cried a lot. There have been so many sleepless nights. It took months to come to the realization that his diagnosis was real. We were lucky to have a friend with a connection at a university hospital where we were introduced to an amazing pediatric endocrinologist; he and his team have helped us every step of the way in understanding and treating T1D. T1D is not a disease caused by being overweight or having an unhealthy lifestyle. It is an autoimmune disease. While many patients are diagnosed before puberty, many patients aren't diagnosed until their late teens, twenties, or even later. T1D is caused by the immune system destruction of pancreatic Beta cells which produce insulin. T1D patients require insulin; it is their life-line and they cannot survive without it. There is no cure for T1D; there have been many advances, however, and we are able to "slow" the diagnosis through novel therapies aimed at preventing Beta cell destruction when the diagnosis is made early (at-risk people need annual screening. Go to www.trialnet.org, for free testing and excellent information about T1D).
We received a fast-track education in T1D over the next few months. We were/are fortunate to have world-class care with our pediatric endocrinology team. With an insulin pump, my son has the A1c of a non-diabetic (<6%) and has >70% time in range (normal blood sugar). We still have hiccups like technology failures (CGM, pump or the phone app we use to monitor his blood sugar randomly stop working); high or low blood glucose for no apparent reason; and frustrations with a health system that values big Pharma profits more than patient's health (the cost of managing T1D in the US is exorbitant – my son's insulin and pump supplies cost over $10,000 every year). If you or someone you know has a family history of T1D, especially a first-degree relative, I urge you to get tested. If you have symptoms of diabetes, you should definitely consider getting tested.
I'd love to help; if you have any specific questions about T1D, give my office a call at (850) 708-1623 or email me: stacy@elemenpcp.com.