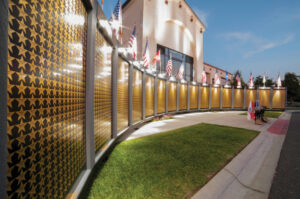 On May 13, the Goldstars Tribute WallTM, a traveling monument honoring the fallen (and their families) from the wars in the Gulf, Iraq, and Afghanistan, will be arriving at Ebro Park, north of Panama City Beach. At 10 a.m. it's kickstands up for a volunteer escort from Ebro Park to Harley-Davidson of Panama City Beach, where the wall will be on view after setup, 24 hours a day, until the morning of May 16. This wall is a sobering reminder of the lives sacrificed in these recent wars, with a gold star to represent each of the lost servicemembers.
Why a tribute wall? Because it's a symbol through which to pay tribute to our countrymen who stepped forward, put their lives on the line and defended the many freedoms we cherish. It's because of the soldiers, sailors, airmen and Marines who never returned home to their loved ones. For this, we must never forget the importance of the Tribute Wall.
We need the Tribute Wall because it is an affirmation of our respect and gratitude to the men and women who died in the service for our country, including soldiers such as Sgt. 1st Class Nathan Chapman, from Joint Base Lewis-McChord's own 1st Special Forces Group. He was the first American soldier killed in support of Operation Enduring Freedom in Afghanistan on Jan. 4, 2002. This soldier, and the generations who came before and after, exemplify the very best in all of us. Like him, many have served with honor and put the welfare of the nation before their own. They remind us that true freedom comes with a high price.
We need the Tribute Wall to remind us of the fallen and keep the spirit of our heroes alive. We need the Tribute Wall so we never allow our Gold Star mothers and fathers to feel forgotten. They represent the legacy of their sons and daughters who died in the service of our nation. They carry with them a grief that most of us will never know or understand. However, in the midst of their pain, they are beacons of sunshine. They strive to keep the memory of our great soldiers, sailors, airmen and Marines alive by working to help veterans, soldiers and their families.
Freedom is an accepted norm, but it comes with a high price. We must never let the sacrifice of the thousands who gave it their all be forgotten. We cannot forget that our country has committed our greatest treasure — our sons and daughters — to defend our freedom.
To participate in the escort, be at Ebro Park for 'kickstands up' at 10 a.m. For more information on this local event, contact Jackson at joshua.jackson@ferman.com. To learn more about the Tribute Wall generally, visit www.tributewall.org.