PCB Chamber New Member Spotlight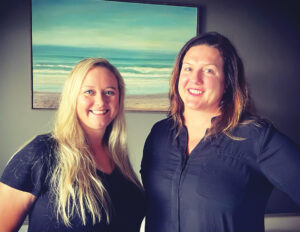 Welcome to Tranquility By The Sea Massage and Spa! This small local business is owned and operated by Nicole Leonard and Nicki Crawford, here to provide an escape from the noise of everyday busy life. Tranquility By The Sea is conveniently located at The Village of Grand Panama, at 601 Grand Panama Blvd.
Nicki graduated from Soothing Arts Healing Therapies School of Massage & Skin Care in Destin, FL, in 2007, and Nicole is a 2014 graduate of Tom P. Haney Technical Center in Panama City, FL. Nicole and Nicki have been long-time coworkers and friends, which plays a significant role in the success of their business. Established in 2018 shortly after Hurricane Michael, Tranquility By The Sea has grown from a single room to what is now a seven-room spa offering a wide range of spa services. What a gem!
Tranquility by The Sea offers a variety of options to let your mind and body relax and leave you revived and refreshed. Clients can choose from a plethora of services, including massages, body treatments, facials, waxing services, microdermabrasion, dermaplaning, etc. From the moment clients walk in, they are greeted by friendly, professional staff and submerged in a tranquil ambiance, accentuated by relaxing music and calming aromas. Their team of Licensed Massage Therapists and Estheticians is well trained and highly skilled to provide quality service and deliver results.
Massage Therapy promotes overall wellbeing and health. It reduces stress, improves cardiovascular health, eases symptoms of depression and anxiety, and helps relieve pain. Whether you suffer from back pain, headaches, fibromyalgia, plantar fasciitis, carpal tunnel syndrome, TMJ disorder, are looking to reduce postoperative pain, or just want a moment of relaxation, Tranquility by The Sea Massage and Spa is the place for you. All their massages come with aromatherapy and hot towels and can be enhanced with hot stones, lava shells, Himalayan salt stones, and other add-ons. You can experience one of their wonderful spa packages ranging from 90 minutes to three hours, but any of the services can be combined to create a customized package to meet the needs of the clients.
All facial services include a complimentary consultation to determine the best care for your skin type. They use a natural and sustainable Phytomer product line made using marine ingredients. Their estheticians are trained in dermaplaning and microdermabrasion, both of which are popular additions to a facial treatment.
At Tranquility by The Sea, they believe that regular relaxation is a part of a happier, healthier lifestyle. They exist to promote and provide just that. Tranquility By The Sea is your local wellness and healing place.
To see the full range of services they offer, visit their website at www.tranquilitybytheseapcb.amtamembers.com.
To check availability and book an appointment, call them at (850) 276-3719.