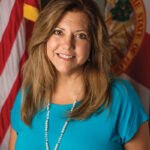 By Ruth Corley, Public Affairs Specialist for BCSO
They say time flies when you're having fun. Bay County Sheriff Tommy Ford has spent the last four years—his first term—in almost continuous crisis mode with barely the time to catch his breath between each challenge. It's not what the Sheriff would call fun, but he feels his agency has faced each crisis in a competent manner that has left him proud of his support staff and the men and women who carry the Bay County Sheriff's Office badge.
After taking office in 2016, Sheriff Ford and his agency have taken on, among other daily incidents, an active shooter situation, a double homicide and intense manhunt for the suspect, Category 5 storm Hurricane Michael, and the Coronavirus pandemic.
In the case of the active shooter, Ford watched as his deputies took gunfire for several hours before the suspect was shot and the incident ended. During the manhunt for the double homicide suspect, Ford and his deputies worked all night in wooded areas in Fountain before the suspect was taken into custody.
Hurricane Michael damaged or destroyed communication and infrastructure in most of Bay County and surrounding counties, challenging the ability of Sheriff Ford's deputies to respond and help the citizens of Bay County. But help they did, driving when they could, walking when they could drive over or through debris no longer, all while they wondered about the fate of their own families and the conditions of their own homes.
When faced with a pandemic, BCSO deputies adapted and put on masks, learning new protocols related to working in a world battling a virus called COVID. "Quarantine" became a common word among conversation. Calls for service still needed to be answered, COVID or no COVID, and all BCSO employees rose to the challenge.
Each crisis, as well as changing issues facing law enforcement across the country, revealed to the Sheriff new areas of training needed to help equip his people to respond even more competently. Crisis Intervention Team (CIT) training has been held multiple times at the BCSO, expanding the capabilities of deputies to respond to people with mental health crises. Use of Force training has increased, with emphasis on de-escalation techniques. Sheriff Ford has also worked to nurture and strengthen relationships between law enforcement and all communities within Bay County.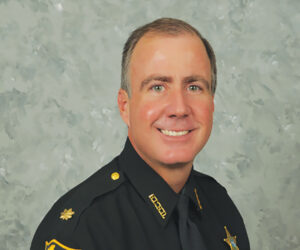 Also evident to Sheriff Ford was the need for additional equipment and buildings, both at the main location of the BCSO on Highway 77, the substations across the county, and at the Bay County Jail. The BCSO acquired a Bearcat, an armored vehicle to protect law enforcement as they approach an armed and barricaded subject or need to rescue innocent hostages. A BCSO Drone Team was formed to assist in the response to barricaded subjects, lost children, or the elderly. Ford, working with County Emergency officials, was able to find the money to design and see the delivery of a state-of-the-art Command Post vehicle. This will allow law enforcement and County Officials to manage crisis situations under one mobile roof, with the ability to communicate from the scene. A new building is currently under construction on the campus of the Bay County Sheriff's Office. Built to withstand the strongest storm, it will house a small emergency operations center which will permit the BCSO to remain fully operational in a weather crisis. Building projects underway at the Bay County Jail will help handle the increasing numbers of inmates housed at the facility.
Sheriff Tommy Ford began his second term in January 2021, as relieved as anyone to leave 2020 behind. But he knows there is no place for complacency in law enforcement, especially in a time when crisis is becoming more commonplace. No matter what the challenge, the mission for the Bay County Sheriff's Office will remain the same: to serve the people of Bay County with professionalism and integrity, and keep them safe.