By John Turbia, Executive Chef, Paparazzi Catering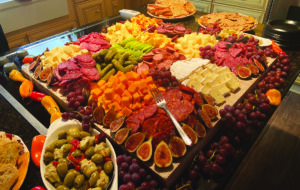 Whether you are planning an intimate gathering at your home, or organizing a major post-covid extravaganza, there are some basic catering tips you should consider.
Every great caterer is a chef but not every great chef is a caterer. It is important to choose your caterer carefully, not on a whim or because you like him or her, or the food they serve at their restaurant. Restaurant service is very different from catering, especially at off-site venues.
Do not hesitate to ask questions. How many off site catering jobs have they done, can they provide references, what's the biggest event they have catered and do they have all the necessary catering equipment and trained staff to do the job? Finally, understand their strengths and weaknesses. Any Chef worth their salt can cook almost anything, but most chefs specialize in a certain type of cuisine, make sure your carter specializes in the type of food you want to serve.
Choose your venue carefully. If you are catering at home consider exactly where you want the food and bar set up, taking into consideration the flow of your inside and outdoor space and ease of access in and out. You do not want to create bottlenecks that prevent your guests from gaining easy access.
Off-site venues must be considered very carefully. Is there a power supply that can handle the caterer's needs as well as lights, heating and/or ac. If not, does the caterer have generators large enough to handle the job. If the event is to be held outside then you must give very careful consideration to the weather. Will it be hot, or cold, will there be bugs, when does it get dark and what will you do if the weather turns bad. Event insurance, often called Show Stopper Insurance, is a safe bet for any large outside event.
Plan well in advance. Even a small gathering at home takes time to arrange well. For smaller events of 35 or less, caterers will usually only need a few days' notice. Larger events can take up to three months to plan and prepare.
Budgets are important and it's not just the per plate price you need to consider. Depending on the size and complexity of the event and the menu, you will need to take many other aspects into consideration, not the least of which, additional staff. Prep chefs will cost more than wait staff, who will cost more than runners. Then there is the bar and bartenders to be considered. As well as room and furniture rentals, décor, and setup and breakdown costs.
It is important to know exactly what kind of event you want to have and to share your vision with your caterer. You may want an elegant, four-course sit down dinner, or perhaps a less structure buffet event, or cocktail reception. Each style comes with its own considerations and costs, right down to the table linens and the knives, forks and plates you choose.
Take a practical approach to selecting your menu and consider all aspects of the event. For instance, will it be inside or out, what time will it be held, what day of the week will you be hosting, how long is it scheduled to last and is anything scheduled before or after your event. You should also take your guest list into consideration, keeping food allergies, vegetarian and vegan preferences in mind.
Waste not want not. Every host fears running out of food. A professional caterer will always ensure there is ample food, but they cannot account for waste. It is worth paying a little more for staff to serve at the buffet table to avoid waste and to select items which can be easily and more uniformly portioned out.
Trust your caterer and let them do their job. You have planned well; you have consulted regularly with your caterer and you have taken every aspect of the event into consideration. Fussing over every detail on the day will be stressful and it will put your guests ill at ease. It is time to relax and enjoy your event.
John Trubia is a third-generation Italian chef from Staten Island, New York. John has over thirty years catering and event planning experience. In April 1997 John catered the commissioning of the USS The Sullivans, serving 4,000 guests aboard Amphibious Assault Ship Kearsarge, to-date the largest catering job of his career. John is also the proud owner of Paparazzi Gourmet Deli on Thomas Drive. For information on John's catering services please call 850 867 7688.