By Brittany Kirke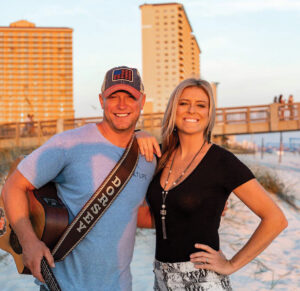 A small-town girl had a dream to get out of her hometown and share her love of music with the world. A small-town boy picked up a guitar and knew he would play on it for years to come. They may not have met on a midnight train, but they met in Panama City Beach, and they are going everywhere.
That is the story of Nicole Rayne and Derrick Dorsey, a high-energy local duo that can and will play your favorite country music with some of their own jamming pieces mixed in between. "We play five to six days a week constantly, and we try to take one or two days for rest," they note. But the pair always loves putting on a show. You can find them at Tootsie's World-Famous Orchid Lounge, Sharky's Beachfront Restaurant, and Barracuda Beach Bar and Grill on a regular basis but keep an eye out for them at other places around the Northwest Panhandle.
Nicole and Derrick formed their duo in the middle of the Covid-19 pandemic and have come out stronger than ever with their performances. Both of them were born and raised in the southern United States, and they found a love for country music at an early age. Nicole grew up in Crawfordville, Florida, and she "dreamed of breaking free to follow [her] own journey." She looks up to her father who raised her during the tough times of childhood and life saying she "would not be where she is today without his support."
Derrick grew up in Easley, South Carolina, and learned to play guitar from his friend Travis Ridley who inspired him to play music. He admired his grandfather most when growing up because "he demonstrated a strong work ethic and was a tough man." That's a major value that Derrick wanted to embody as he grew up and became the man that he is today.
Fun Facts:
Derrick played baseball at the collegiate level for a short bit of time.
Nicole is a die-hard Florida State fan.
Derrick is a master boat captain.
Nicole travelled to London in high school with her cheerleading team.
Neither of the duo drink soda.
Both Nicole and Derrick have a love for beer, and you can typically see them drinking a cold Bud Light at their shows.
Visit their website www.NicoleandDerrick.com to see where they're going to perform next. It has dates ranging all the way until October so you can plan ahead of time to see them! They also update their "Nicole & Derrick" Facebook page frequently with show information, so keep an eye out.
Nicole and Derrick are always looking for new venues to explore and perform at so if you are a business owner or would be interested in having them play at your event, please feel free to reach out to them on their website or through Facebook.