By Pam Anderson
This March was no exception! Head boats, charter boats, guide boats, and dive boats were ready but Mother Nature was kicking up the winds quite a bit… In spite of the windy days, boats were booking and making trips into the Gulf and the Bay for some great fishing fun.
Triggerfish are on the menu! They are in March and April and biting! Many say it is one of the best-tasting fish in the Gulf, and we believe it… ugly as sin, but good tasting and lots of fun to catch.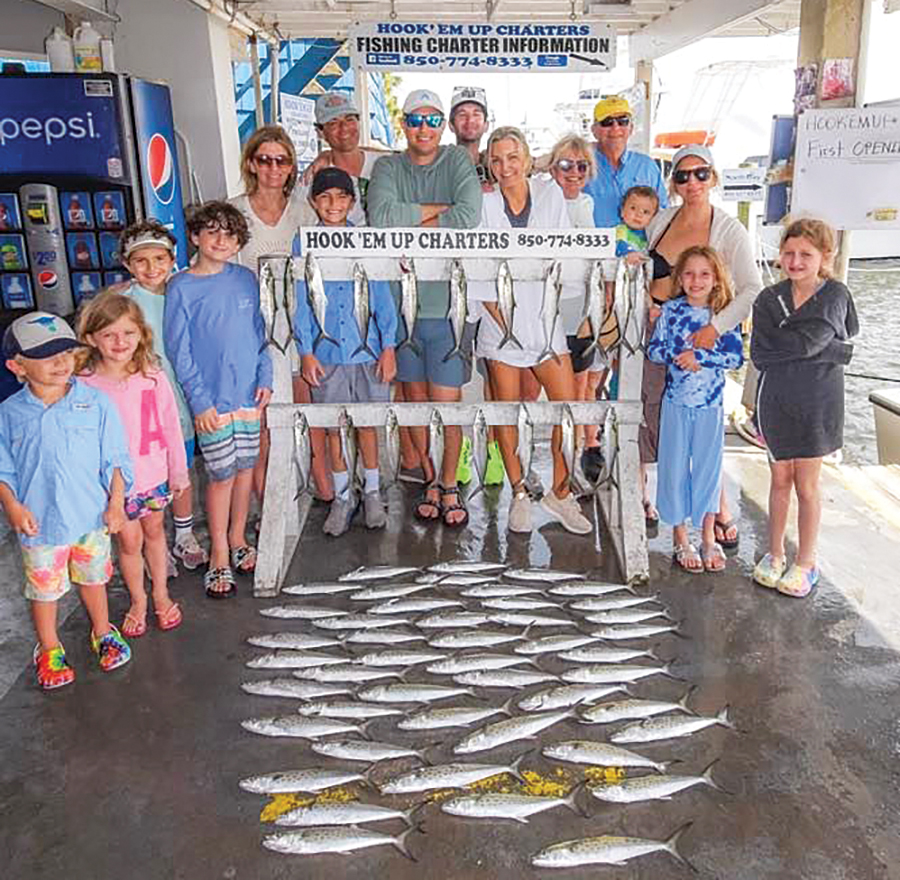 The charter boats and guide boats are beginning to bring in Spanish Mackerel for their spring run through the area. These are also fun to catch and plenty tasty! Be sure to make reservations soon to get your chance to catch one of these seasonal fish. Bake it, grill it or take it to one of the local restaurants for a 'Hook 'n Cook' – you catch and they cook.
Vermilion Snapper and White Snapper and many other species are always available for the taking on just about any trip you book. They are the backbone, year-round fish, that keep you (and us) busy fishing. And, of course, they are great to eat fresh from the boat-fried, baked, or in fish chowder – yum!
Sheepshead are abundant around the jetties at St. Andrews State Park this time of year. They make great fish chowder, too.
Start watching for Cobia. It is about time for them to make their annual migration from the South.
New this month at Capt. Anderson's Marina, we are in the first phase of 'Fisherman's Walk'. Along the docks, we have a small souvenir shop, specialty coffee shop, and shaved ice shop. They feature a sitting area with tables so you can snack and watch the boats unload their catches. Check them out the next time you come by. We believe they are going to be a great addition to our little corner of the world. And, there is more to come!
Dockside Grille will be serving fresh sandwiches, snacks, and ice cream, as well as offering more seating on the upper deck so you can watch the boats come in all over Grand Lagoon.
The Event Center is bustling with weddings, seminars, business meetings, retirement parties, and the like. What a beautiful waterfront view of Grand Lagoon! Make plans now for your special event.
Red Snapper season opens June 1. Boats are filling up-call soon! We have Head boats running 5-hr, 6-hr, 10-hr, and 12-hr day trips, as well as our 8-hr night trips. They always book up early.
More folks are coming in and enjoying all that beautiful Grand Lagoon has to offer here on Panama City Beach. We welcome you all! You won't find an area of the beaches that has more local family-owned businesses all nestled in one area as you will here in the Grand Lagoon area and along Thomas Drive.
Signing off from,
Capt. Anderson's Marina…Where the fish are always biting and the kids are always smiling.