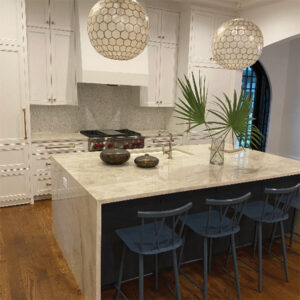 The most popular feature in many kitchens is a beautiful custom island. Designing your new island is extremely exciting and there are so many options for cabinetry and tops. The composition of an island is an important part of interior design. Many times, the island is the center of attention in a kitchen and there are many details to consider.
Let us begin with the cabinetry. There are lots of questions to ask yourself. What direction do I want it to go? What size? Will it have a raised bar? What color and wood species? Should it be different than the perimeter? Do I want a sink or a cooktop in the island? Maybe a beverage fridge or an ice maker? Will it be used for food prep or dining? Maybe I want it on casters so I can move it around? traditional or contemporary?
Whether you are building a new home or a remodel, it is a good idea to get started on cabinet design to get the design you want, and this can be done if started early enough in the project. Our project managers can guide you through this process to design an island that works with your lifestyle and your space.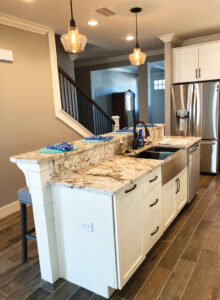 Countertops will have a huge impact on the size and look of your island, and in turn can dictate the cabinetry. It is a good idea to consider the design of your countertops at the same time. Natural stone and quartz slabs can be anywhere from 110 inches to around 135 inches long and can affect the design of the island. There are a number of things to contemplate at this point. Do you want seating at your island and where? Do you want waterfall edges anywhere? Do you want a special edge? The most popular custom edge is an Ogee edge. Maybe you want it to look thicker? Fabricators can miter edges to give your island the appearance of a thicker edge. Do you want the island to be the same as the perimeter? Butcher block has become increasingly popular for the island. Access to a project is another important thing to consider when designing an island. If there is an elevator or stairs, there may be limitations.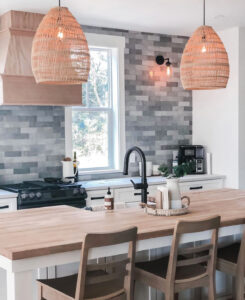 Some other items to think about when designing your island include lighting, electrical, and plumbing, as this will all have to be planned accordingly.
Here we have given a few ideas for the islands to get you started. Granite Plus and Tassels Interiors have been serving Bay County for over 15 years and look forward to helping you design the island you have always wanted! Stop by and see us anytime!
Here are a few resources for inspiration for your new island.
www.durasupreme.com
www.trucabinetry.com