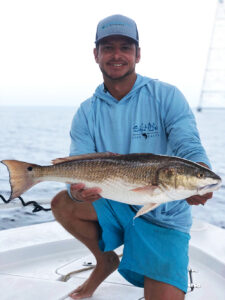 By Tim Braddock, Bay Breeze Bait + Tackle
Welcome to the first edition of your local 'Honey Hole' fishing report, sponsored by Bay Breeze Bait + Tackle. Every month we will provide current, reliable information on 'all things fishing.' We'll talk about what's biting, where to catch them, the best in fishing gear, and events and resources available to the local anglers. The Honey Hole will provide information for all types of anglers, from the flier to the offshore enthusiast.
Here's what's biting: September ushers in one of the most productive times to fish any body of water in our area. Bait fish are plenteous and plump and the big mature fish are hungry. The piers will hold plenty of King Mackerel and from other shorelines you can expect for the whiting to keep biting.
If you are ready for a solid battle with a fish, offshore holes will hold large Amberjacks (Reef Donkeys).
So, get out there and get fishin'!
Panama City Beach, Panama City and South Walton are blessed with several great local fishing shops. Go by and pay them a visit, I am sure they will have lots of great local fishing tips.
And don't forget to check out Bay Breeze's Grand Opening at their new Panama City Beach, location, Saturday, September 26th. The event will provide a perfect opportunity for you to purchase fishing gear at great prices. The day will conclude with a 'Cigars & Guitars' concert starting at 5 p.m., featuring local artist Chris Alvarado owner of Driftwood Guitars, Santa Rosa Beach.