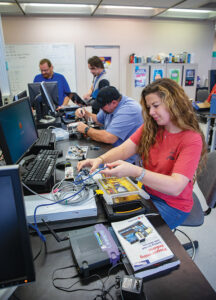 After more than fifty years as the "center" of career technical education (CTE) in northwest Florida, Tom P. Haney Technical Center has announced its name change to Tom P. Haney Technical College. The school has prepared thousands of students for successful careers in the skilled labor market over the years, and now it has joined the ranks of other area schools to be recognized as a collegiate post-secondary institution. The new name reflects the changing attitudes toward career technical education and professions in the skilled workforce. The acknowledgment of the critical need for skilled workers and the successful high-wage career opportunities available nationwide as well as recognition of the equity in program difficulty and job outcomes with traditional colleges led to the current national trend in rebranding career training centers as colleges.
Rebranding the school comes at a perfect time as the campus will be getting a major facelift in the next couple of years after suffering devastating damage from Hurricane Michael. The storm's silver lining has provided a timely opportunity for the school to upgrade its facilities. Four of the school's nine buildings have been recently demolished. The first building to be rebuilt will be located at the intersection of Baldwin Avenue and Highway 77. This new 28,000 square foot building will house school administration, medical programs such as Practical Nursing and Massage Therapy, and business programs for IT, medical office staff, and administrative assistant training.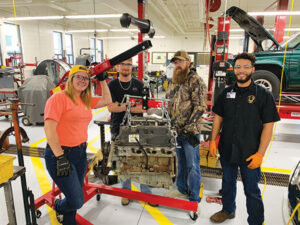 The school's mission is to provide educational opportunities for all students and the training necessary to meet the needs and standards of today's changing global workplace. CTE programs put an emphasis on career-readiness because they focus on important employability and technical skills that are in high demand. With hands-on learning and nationally-recognized certification opportunities, Haney offers the training necessary to meet the employment requirements of local and regional manufacturers and businesses who require skilled workers and addresses the current skills gap for in-demand careers that require specialized training.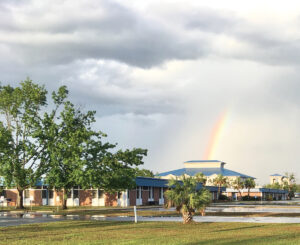 Haney students range from recent high school graduates to military veterans to people who are looking for a first or second career. The average age of a Haney student is 28, and there is a fairly equal balance of males and females. No prior experience or school credentials are required for the majority of Haney's programs, but sometimes past work experience credit can be granted.
There are many benefits to career technical education. All of Haney's programs can be completed in one to two years. Small class sizes lead to individualized instruction with a balance between classroom foundational knowledge and the majority of time spent in the labs doing hands-on learning. Student labs simulate a real-world shop that meets the industry standard for equipment, supplies, and projects.
Located at 3016 Highway 77, Panama City. Phone (850) 767-5500; on the web Haney.edu.