By Cindy Mulla
Perfect climate conditions and outdoor natural spaces in the Florida panhandle create opportunities for a variety of year-round exciting outdoor adventures for locals and visitors alike. The buzz of seasonal excitement is always present in the air of Northwest Florida.
As you embark on your next outdoor excursion, you should be aware that Beach Mosquito Control District (BMCD) is doing their best to protect you and your family from potential mosquito-borne disease/outbreaks by monitoring and controlling local mosquito populations.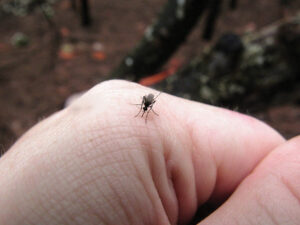 The Panama City Beach area has 50 species of mosquitoes and 26 of these species have the chance of transmitting mosquito borne disease or parasites. 17 of these mosquito species have more potential to transmit to humans and animals, including parasites to small domestic pets (Dog/Cat Heartworm). Six mosquito species out of the 17 species are targets of concern for Panama City Beach, where these species are constantly surveyed for control.
Surveillance is key for any Integrated Pest Management program (IPM), which BMCD performs for controlling female mosquitoes. Several different trapping methods are used to collect female mosquitoes and are designed for targeting specific species to aid in monitoring the presence or absence of arboviruses (virus transmitted by mosquitoes) in our community through laboratory testing BMCD performs every week.
Weekly serology samples are tested by the Florida Department of Health from three sentinel chicken flocks which gives BMCD the information to react to the transmission of certain arboviruses before they can spread into the community through an integrated approach for suppressing mosquito vector populations. Potential mosquito borne diseases of primary concern within our local area that impact humans are: West Nile Virus (WNV) and eastern equine encephalitis (EEE). However, by continuous, vigilant monitoring of mosquito populations, we are observing the potential of arbovirus activity that can be imported to our local area. For example: Chikungunya Virus (CHKV), Dengue Virus (DENV 1, DENV 2, DENV 3, & DENV 4) or Zika.
Mosquito transmitted disease has been recorded for decades. Every state, except Alaska and Hawaii, have had recorded endemic WNV cases. The late summer months are when WNV cases tend to rise locally with September being the peak month in our area. The peak month for EEE in our area is June. But do not let your guard down, mosquito virus activity is possible year-round in our area due to year-round mosquito populations.
Arbovirus is real, do not let one bite impact you for life. As we prepare to enter West Nile Virus season, please remember to be responsible when it comes to personal protection and always wear insect repellent when you are outdoors. When choosing a repellent, make certain it has one of these Environmental Protection Agency (EPA) approved active ingredients: DEET, Picaridin, Oil of Lemon Eucalyptus (OLE), IR3535, Para-menthane-diol (PMD) or 2-undecanone. Always follow the manufacturers label directions. When preparing to travel, do not forget to pack your repellent! We do not want you to return with an unwanted arbovirus souvenir.
For any of your mosquito concerns and or questions in the Panama City Beach area, please contact Beach Mosquito Control District at (850) 233-5030 or www.pcbeachmosquito.org.
Have a safe and healthy remainder of 2021!