By Brittany Kirke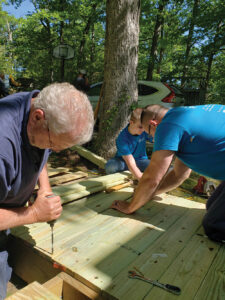 A gift bestowed on Bay County, the 516 Project is a faith-based 501c3 non-profit construction ministry lifting the spirits of those in need.
Janna Roland and her husband, Tommy, made the move to Panama City Beach from Virginia with a mission in mind: spread love and bring peace to those in need. After Hurricane Michael in October of 2018, the community has grown stronger by coming together to help one another. This experience also showed how hard it can be to make ends meet in a difficult situation. Having small things to help such as a roof built over your head or a ramp to assist with access can make a world of difference to the right person. People helping people can be a saving grace in its own right. The Roland family wants to reach the people who may have "fallen through the cracks and can't get the assistance they need."
Janna and Tommy have plans to extend the work being done in Virginia and intend to be able to bring additional teams together in our area. There are several projects that the 516 Project takes on, from mowing lawns to building roofs. Janna said that their goal is to "have a team from Virginia come down and put together a kickoff weekend" where there would be several projects to split up for everyone.
They are always in search of volunteers to assist with these projects and are looking to broaden their reach in the area. Projects take place year-round. The 516 Project is also family-friendly, so, feel free to bring the kids along and show them what community service means to those they share it with.
If you or anyone you know would be willing to assist others in the community, visit their website to get involved. Our readers are also encouraged to submit applications for individual or community needs on their organization's website, www.516project.org.
While those at the 516 Project and the churches they are involved with wish they could assist everyone who applies, that isn't necessarily feasible. However, they will do the best they can to help and pray for those in need even if they cannot work on your home.
"Let your light so shine before men, that they may see your good works, and glorify your Father which is in heaven." – Matthew 5:16