By Aric Bowen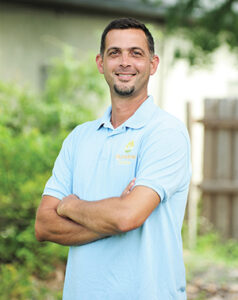 Since opening its doors in January of this year, Sundew Solar has been successful in reaching countless Bay County residents to spread the word about the importance of going solar. With so many calls fielded regarding questions about how the solar installation process works, Sundew wanted to outline what consumers can expect from the very beginning when the project is being quoted to the very end after the solar has been installed.
Phase One: Quoting/Design
In phase one, Sundew consults with homeowners to provide answers to an array of questions they may have and to determine their expectations. Projects range from standard grid-tied solar energy system installations to custom designed structures that will support the panels, including pool enclosures and greenhouses. From there, they request a recent power bill so they can evaluate their average power usage in order to inform homeowners how much money they could potentially save by switching from electric to solar power.
After the initial consultation, Sundew then provides a custom quote detailing the amount of energy and money that could be saved over a number of years with an itemized breakdown of the pricing for the solar energy system and installation.
Phase Two: Engineering/Design
Once the quote is signed, the project is sent off to a licensed electrical engineer for the custom designed solar energy system and, in the case of a project that includes a structure, a custom set of engineered plans designed for the building where the panels will be installed. Homeowners are given the opportunity to approve the design of the structure before the plans are finalized. All electrical and structural plans are designed to meet the most current Florida Building Code.
Phase Three: Installation
After receiving the final building plans, the project will be submitted to the local building department for permitting. Sundew Solar has partnered exclusively with locally owned and operated construction company, Guyson Construction, for all of its solar installation and construction projects. Guyson Construction has been serving Bay County since 2002 (19 years), has a five-star rating with the Better Business Bureau, and has been a member of the Bay County Chamber of Commerce since 2013. During all installation and construction projects, both Guyson and Sundew ensure that there are designated safety personnel on site at all times.
Phase Four: Completion/Activation
Upon passing final inspection, Sundew schedules the utility company to install the new meter and turn on the system. Sundew then performs tests to ensure that all components are working. Clients are able to download an app to their mobile phones that allows them to track the production of the solar panels in real-time.
For questions, quotes, or general information on solar panel installation, please contact Aric Bowen with Sundew Solar at (850) 832-0325. Sundew Solar is a member of both the Panama City Beach and Bay County Chamber of Commerce.