By Clint Whitfield, Principal, Breakfast Point Academy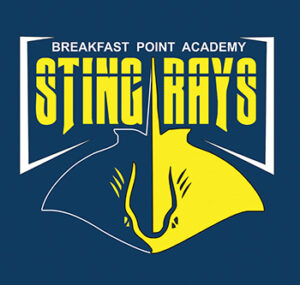 We knew that this school year was going to produce challenges and obstacles that we'd likely never before experienced. However, I could not be prouder of our Stingray staff, students, parents, and community for coming together to keep our students in school. We looked at the challenges as opportunities: opportunities to help our students thrive socially, emotionally, and academically in a time when distance learning also created distance relationships. As we look back on this school year, we will reflect on the perseverance and resilience that Breakfast Point Academy personified as a family.
Even in the virtual world, our students continued to thrive, from kindergarten all the way through eighth grade. On May 19, we were so excited to hold our kindergarten celebration to watch our students sing, speak, and make their parents proud of their accomplishments! On May 20, our K-5 students attended Shipwreck Island for a field trip. A year ago, to the day, we were holding drive-thru parades in the front of the school. It really put things into perspective to remember how far we have come in a year.
Our elementary Art Club painted an amazing dolphin as part of a grant for Panama City Beach, and we know it is proudly displayed in our amazing city! We carried on with Beta Club, Art Club, and even introduced a STEM club this year, which completed some really awesome experiments.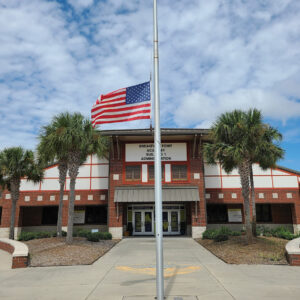 Our middle school students received numerous academic accolades this year through academic fairs. We received awards at the Tom P. Barefield History Fair, which included four first places out of nine categories, one second place, two third places, three honorable mentions, four special awards, and five projects to state. Ava Hollman had an amazing live performance that received Best Use of Primary Sources, and Top Ten in Live Performances in the entire state! Owen Frank and Conor McCann both advanced to the Chapter Invitational for MathCounts in which Conor placed first in his division, as a seventh-grader! For the Invention Convention, five projects placed in the district competition while three students advanced to nationals. Our CTE students will have earned 231 certificates in the following: Internet Web Associate-HS CIW course, Cyber Security, Communications, Word Processing, Spreadsheets, Gaming, and Web Design.
In athletics, we were excited to welcome back sporting events, as well as competing in the Junior Olympics. Our boys' soccer team went undefeated only to suffer a close loss in the playoffs, and our boys' basketball team reached the playoffs in consecutive years, for the first time in BPA's history. Our Junior Olympics team competed against other elementary schools throughout the county and had the most successful season in BPA's history. Neveah Grant won the 100-meter dash, our tug of war team placed third overall, and River Lamb won the 800-meter dash!
COVID-19 might have created challenges, but we rose together to face those challenges. We are looking forward to what the future holds for our amazing Stingrays. #RaysRise