By Jamie Zimchek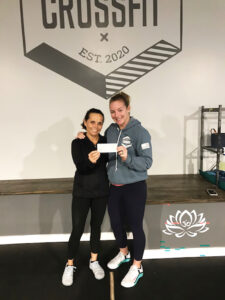 Sally Sparks has a history of helping people, from over three decades with the Bay County sheriff's office to regular mission trips with her church. Then, in 2009, her youngest son moved out and she didn't have a mission trip lined up. "I wanted to do something for somebody," explains Sparks. "I thought, why don't I start a food bank?" So she did. And An Angel's Pantry was born.
In the beginning, she converted her son's empty room into a pantry, and asked people from the sheriff's office where she still worked to donate food. "I posted fliers at my work place and told people if they needed food I could give it to them," Sparks remembers. "The sheriff's office has been very supportive." People were allowed to drop off and pick up food there. "People were so generous to give," she says. One woman has been donating money every month for the past 11 years, and Mugsy Parens with the Panama City Beach Senior Foundation has provided a location for food drives and drop-offs on the beach side. Sarah Homestead with Panama City Crossfit helped coordinate a fundraiser and raised six hundred dollars in a day; Morgan Godwin from One Heart Yoga coordinated a food drive at their neighborhood Christmas golf cart parade. Recently another local woman put in an order to Sams Club for Sparks to pick up packed with food items. Every year, Sammy and Marsha Allen through American Muscle Club organize a car show and food drive. This year, the drive takes place on October 2 at the Callaway Sonic from 6 to 8 p.m. Money and food donations are welcome, and a 50/50 raffle pushes half the winnings back to An Angel's Pantry, although Sparks adds that winners often generously donate their half of the winnings right back to An Angel's Pantry.
All this support goes a long way, but there's room to do more. Between Hurricane Michael in 2018 and the fallout from Covid, the number of hungry in Bay County has stayed high. Also, the men's Panama City Rescue Mission burned down in November of 2020, and there are a number of homeless who are still on the streets heading into another winter. Sparks says because of this she has a number of repeat food requests from those who just can't get out of their situation. Fortunately, the donations keep coming. "It just always seems to work out," says Sparks. "There are so many people in the county that want to help."
She delivers each food box herself these days; sometimes she doesn't have any drop-offs, and then other weeks she's so busy it's hard to keep up. "Some weeks it will be zero, or it can be between four and 10 and 15 a week, and then nothing." Though those in need often learn about An Angel's Pantry through word of mouth, they're also listed as part of the 211 service in Bay County, a program of the United Way West Florida and United Way Northwest Florida (just dial 211 for information on community services including food distribution, children's services, and mental health help options).
To support An Angel's Pantry, drop off donations at Panama City CrossFit, 661 Jackson Way, Panama City, or Panama City Beach Senior Center at 423 Lyndell Ln, Panama City Beach. You can also leave items at the Bay County Sheriff's Office, 3421 FL-77, Panama City. Check ahead for hours at each location to be sure someone is available to receive your contributions. Though non-perishable food items like boxed macaroni, grits, crackers, cookies, peanut butter, jelly, or canned foods (but not more creamed corn), are most welcome, Sparks also accepts bread (which she can freeze) and hygiene items, from diapers and wipes to shampoo and toothpaste. The message here? Local angels are here to help, and with your support can make this community even stronger.
For other ways to donate or request food, contact Sally Sparks at (850) 814-2488 or email her at sally.sparks@icloud.com.