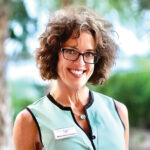 By Marta Rose-Thorpe
Moving to a new town is not new to me… I've done it several times in my life. We moved a few times growing up and as kids, and then teens, you adjust. The big change happened when this Florida girl moved to Los Angeles in the late eighties – knowing virtually no one. There wasn't a job awaiting me post-college, or relatives or friends to receive me. (So, why exactly did this seem like a good idea?) Simply put, I wanted a change. Those tall palm trees lined up against the glorious L.A. sunset looked so sexy. The place was vast, the pace was fast. The people I encountered had a distinction that set them apart from the friends and schoolmates I had left in Florida. Now, some will say that in life, you find what you seek. I was seeking different… And different is what I found. I knew no one, and nothing, and had to learn it all. Through the months I met people, learned my way around, and discovered the tempo of Southern California. I figured out where the locals hung out. I found jobs, gyms, and places of worship – cafes, clubs and the best beaches. This all took time, but by the early 2000s I was a "local" and had it all figured out. In 2004, 18 years later, I relocated back to Florida.
This go-round, the change wasn't as easy-breezy. That bold, carefree spirit, generally possessed by youth, had matured and become more responsible at this point. A baby soon came, and as a new mother I had all kinds of needs: an appropriate place to live, health professionals, a solid source of income. I did have my immediate family in Panama City Beach – a sister, brother-in-law and their three children, and several other members of the family close by. But the "growing roots in a new community" process was the same. When you're new in town you need resources – lots of resources. And a lot of that comes from just meeting new people, asking lots of questions, and putting in the time to research your new community. Flash forward to today, and again, I consider myself a "local" here in Bay County. But through my own personal experience of learning how to fit in in a new place, I've developed a passion for helping others do the same.
I joined the team of the Panama City Beach Chamber of Commerce for nine years, starting in 2005, as their marketing and communications person, and I adored that job! I loved being a resource to people, connecting people, and helping the new ones find their footing. I loved encouraging and supporting new businesses and small businesses. I loved helping people connect the dots. If you know me then you probably know that I frequently hand my card to new folks in town and tell them to "use me as a resource," and frequently they will. This passion for connecting and engaging people with "what's happening in the community" led me four years ago to launch Grand Lagoon Life Media which combines print, social platforms, and digital avenues to connect and engage residents of the Grand Lagoon (which is also my home). This month I'm bringing another new community platform to the area that REALLY excites me because I, again, get to be the Welcome Wagon of sorts. BeLOCAL Bay County reaches all families moving into Bay County every month, and that number seems to keep increasing. I reach them through multiple streams and help them get acclimated, give them resources, connect them to local businesses, and share with them where the locals like to go. Invaluable information! I wish BeLOCAL had existed when I moved to L.A. all those years ago!
So, if you're new in town, welcome to your new chapter. Feel free to check out BeLocalBayFL on Instagram, and drop me a "hello!"