By Marta Rose-Thorpe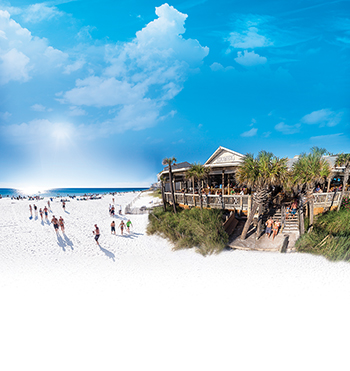 Schooners resides on the historic East End of Panama City Beach, in a beautiful enclave spanning the Thomas Drive corridor known as the Grand Lagoon, right on the beach. The "Last Local Beach Club," as it is widely known, is open year-round for lunch and dinner. During the warm months, Schooners' patrons come early and stay all day to play volleyball, watch the kids splash in the surf, or just watch the waves roll in. It's a local tradition to gather on the beach behind Schooners, every night rain or shine, to celebrate Sunset. The crowd counts down and, just as the sun dips below the horizon, Schooners fires off an old cannon to celebrate another beautiful day on the beach and ring in the evening. Three live web cams capture the sunsets as well as the daytime waves rolling in, volleyball games and sand sculpting on the beach, and general beach fun.
Schooners is the last of the old, open-air hangouts left on the Gulf Coast. It started back in the late '60s when the establishment was known as "The Beach Party." In 1985, Jim Cannon purchased The Beach Party from Kinney Strickland and renamed it Schooners. Most people think the name means a type of sailing ship, but actually, Jim was sitting in Australia sipping an ice-cold 'schooner' of beer when he learned that his favorite bar, The Beach Party, was for sale. He cut his world-tour vacation short and flew back to Panama City Beach to buy the place. Back then, Schooners was a rustic beach bar; Atchafalaya and Telluride were the most popular bands in those days, and when they played the crowds were so huge, law enforcement would have to direct traffic.
In 1995, Jim Cannon sold Schooners – just eight days before Hurricane Opal blew into town. Schooners' new owners, Sparky Sparkman and Toni Davis, were committed to rebuilding the historic original structure, and although it took six months longer to do so, the original bar, along with every original floorboard, piling, wall and rafter, was lovingly restored. After the hurricane it was hard to find construction workers, so the Schooners team did a lot of the work themselves, searching through the wreckage to find and restore old photos and historic memorabilia. Schooners reopened Memorial Day weekend of 1996, and locals were thrilled to see that the "old Schooners" hadn't changed a lot (although the bathrooms had improved!). In April 2020, during the Covid Pandemic, outdoor beachside dining was introduced.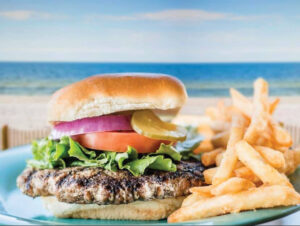 Schooners was alive and bustling during my recent lunchtime visit. It was impossible to escape the exhilaration in the air on that Friday in the midst of Spring Break… that feeling of refreshing fun when you're on vacation at the beach. I strolled through the inside to the back, where a hazy, bright day met me with the sounds of chatter, clatter, and strains of Sheryl Crow on the sound system. The Schooners team appeared to be enjoying the Friday hustle. As GM Matt Weber explained, certain servers, bartenders, and managers have belonged to the Schooners family for a long time; the faces of bartenders Larry Quick and Shawn White are part of Schooners' cultural backdrop.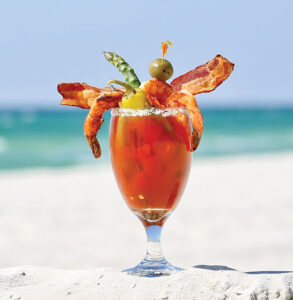 If tropical drinks are your thing, Schooners is your place! My server Franzi brought me a Top Shelf Skinny Margarita ($12) …freshly squeezed limes and oranges, agave nectar and premium silver tequila… light, crisp and refreshing). The Grand "Blue" Lagoon ($12) had a bold, devil-may-care tang, with Grand Marnier, Blue Curacao, lime, agave, and Don Julio tequila. Whether you like Passionfruit Sangria ($8.50) or the Sunset Splash ($8.50) with hints of raspberry, peach, mango, and pineapple… Daiquiri's and Pina Colada's ($10) or the classic Painkiller ($10) with Pusser's Rum, coconut, pineapple and orange juices… Schooners has you covered! Matt mentioned another epic frozen cocktail Schooners is known for, the Pusser's Rum-based Banana Baileys Colada ($11). Schooners' bar serves a variety of red, white, rosé and sparkling wines ($6.50-$8.50), domestic and imported beers ($3.75-$5), and 19 craft beers (all $6).
Chefs Konrad Jochum and Justin Bell have assembled a masterful menu full of timeless, prototypical beach fare. "We're a beach shack that serves great Burgers ($13) and Fish Tacos ($14)," says Matt. "The Gulf Coast is known for fresh Grouper; we serve it as a sandwich ($18) or entrée ($26), fried, grilled or blackened." The Scuban, Schooners' version of the classic Cuban with slow roasted pork, ham, swiss, pickles and mustard, is rolled and then grilled in a flour tortilla. The Truck Tire Onion Rings served with honey mustard are golden tried and big enough to share. Favorites like Peel-n-Eat Shrimp ($14), Seared Crab Cakes ($14) and "The Beach Party" (a trio of fried mahi, oysters, and jumbo shrimp ($29) keep happy customers coming back. Or try something a little different: the Rock'n Lobster Flatbread ($14) or "The" Tuna BLT ($16) …a version of the classic BLT with blackened yellowfin tuna and wasabi sauce on toasted ciabatta.
Everything on the menu is tried and true – a successful bestseller. So, What's Good? I asked Matt (who took great care of me, filled me in on all sorts of history and details, and helped me navigate the menu). Matt suggested I start with one of Schooners' blockbuster favorites, the Tuna Medallions appetizer ($14). Coffee-seared yellowfin tuna medallions are served with seaweed salad, wasabi, sesame seeds and Mandarin Orange Sesame Ginger Sauce. Okay, let's break this down. I know many good beach establishments serve seared ahi tuna in some form or fashion, but truly, this was one of the best versions I've ever had. The fresh, perfectly seared/rare tuna was tender and delicate, its coffee coating adding a rich, salt-n-peppery depth. Now, I've always considered the seaweed that accompanies the ahi a garnish, but this time it actually competed with the ahi for the title of 'Star of the Show!' This seaweed was the most fresh, flavorful I've ever had. It sat on a bed of cool, fresh spring mix lettuces, drizzled with a light, citrusy-sesame vinaigrette, and I did something I've never done before – I ate it all.
Next up, Matt suggested I try a Schooners classic, the Shrimp & Grits ($23). Grilled shrimp paired with smoked Gouda and Tasso cheese grits, topped with Crawfish Cream Sauce. Love. At. First. Bite. THIS is my new favorite! The grits are just creamy-dreamy, with a little heat packed into the creamy crawfish making an explosion of flavors! The shrimp were plump and deliciously grilled with the perfect amount of seasoning.
Franzi was amazing and so attentive. She suggested I try one of "Big Jamie's Sweet Cakes" for dessert, but I truly was so full, so I took a piece home to devour later. Friday's variety included chocolate peanut butter cake, and it was scrumptious. Schooners also serves gourmet cheesecakes like Salted Caramel and Key Lime Crème Brulée, Molten Lava Cake, and traditional Key Lime Pie.
There's always something special going on at Schooners. Special events and fundraisers take place year-round, dedicated to important community services and special causes, and include Easter Weekend, the Cajun Festival, Lobster Festival, Halloween, Christmas Party and New Year's Weekend. Schooners is located at 5121 Gulf Drive, PCB, and is open Sunday through Thursday from 11 a.m. to 9 p.m., and Friday and Saturday from 11 a.m. to 10 p.m. For more information call (850) 235-3555 or visit Schooners.com.