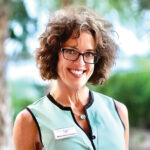 By Marta Rose-Thorpe
Poké ("PO-KAY"): A diced raw fish served either as an appetizer or a main course and is one of the main dishes of Native Hawaiian cuisine.
When did a bowl of Poké go from being a type of cuisine to an experience? The answer is: When Island Fin Poké opened in Pier Park North two months ago. This "quick service with a casual dining experience" restaurant has a cool Island vibe in its music, décor, and menu options. All Island Fin Poke's look nearly alike, with a similar tropical, beachy vibe and clean, comfortable feel with spacious, tall ceilings. Panama City Beach in North Pier Park is the 24th restaurant to launch in the chain.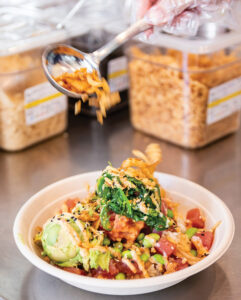 As guests move through the line of healthy, exotic, and aesthetic options to place in their "made-to-order" bowls, the servers talk through each ingredient and option, and educate guests along the way. The fish have special marinades. The veggies and salsas are homemade and include all sorts of luscious ingredients. The crunchy toppings and finishing sauces at the end are colorful and enticing – each with its own flavors, aromas, and ingredients. "We want to make this an excellent experience," states manager Andrew McKelvie. "We go the extra mile to make sure this happens." That extra mile involves any number of things, such as walking the food out to the table, bringing free Dole Soft Serve after the meal, and bussing the table while the guest is still there.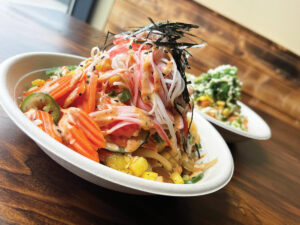 "Have you ever built a bowl?" is the question frequently asked. Every bowl in a unique work of art, and no two are ever quite the same. Everything at Island Fin Poké is homemade daily and fresh; everything gluten-free, with vegan and keto options. The tuna is AAA Grade, single pole, center filet. The toasted coconut chips are made with chile oil and Togarashi, an assorted chile pepper mix. Togarashi is also the main ingredient in the Togarashi finishing sauce and the Wasabi Cream finishing sauce – two of their ten homemade finishing sauces. The Avocado finishing sauce combines Mexican crema, lime juice and mashed avocado.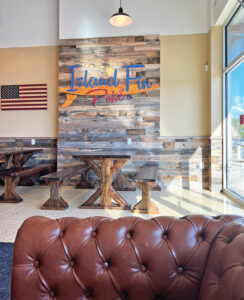 "We fresh prep every day," says Andrew. The pickled veggies are a blend of cucumbers and daikon radishes; the spicy pickled veggie mix includes carrot chips and fresh jalapenos with ginger paste to bring the heat up a few notches. The OG veggies are a fusion of onions and jalapenos marinated in OG sauce for 24 hours; the star of this sauce is Shoyu, a premium, gluten-free soy sauce that is mingled with rice wine vinegar, sesame oil, and olive oil. The pineapple salsa mixes fresh pineapple and mango diced up with coarse black petter, salt, fresh cilantro, and jalapenos.
Island Fin Poké offers beer, champagne, and sodas including some of the Stubborn Soda line. Their Happy Hour happens daily from 3 to 6 p.m. where Dole Soft Serve is only $2! This delicious frozen treat is gluten-free, dairy-free, and fat-free, and comes in Pineapple with the second flavor rotating between Orange, Watermelon and Strawberry.
Andrew recommends downloading their App for ease of ordering. "The App lets people order ahead, then set a time to come pick up; it also includes a nutritional calculator so you can see the calories and nutrition of every bowl you build." Island Fin Poké is open seven days a week from 11 a.m. to 9 p.m. and located in Pier Park North at 15500 Panama City Beach Parkway.