By Marta Rose-Thorpe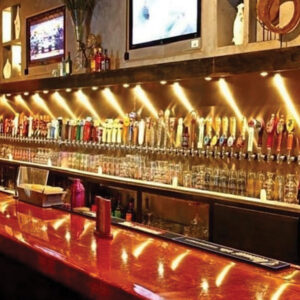 When I enter a restaurant, even if not for the first time, I like to take in and savor the atmosphere. Some call it the "space" … the "vibe." My son Leo and I arrived at Craft 850 a little before 5 p.m. on a Thursday evening. The mood was calm, and I loved the ambient lighting of mason-jar pendants throughout the room. The colors, the furniture, the fireplace all make Craft 850 feel very cozy. Lady Gaga entertained us over a system with perfect acoustics – the kind that made it seemed as if we were there, listening to her and Bradley Cooper perform "Shallows" live, yet we could still maintain a comfortable conversation. The place felt stylish and happening; the servers were chic in their all-black outfits. We were seated, and our server Aleeta started us out with an order of house made, spiced potato chips that were crisp and delicious, seasoned with an Indonesian curry. Leo gave these a thumbs up.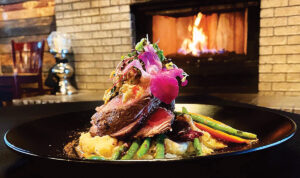 Aleeta then served a trio of appetizers: the Chichen Tuna, Coconut Shrimp, and Craft 850's signature Devils on Horseback. Oh my, where to begin? The Chichen Tuna, a Craft 850 original, is a fusion of east and south, with sushi-grade ahi, flash fried, topped with togarashi, wasabi ranch, and Thai chili. The ahi was tender and rich, and the beautiful dish was topped with microgreens. The Coconut Shrimp consisted of Gulf shrimp lightly fried in a key lime-coconut batter – warm, juicy, and mesmerizing. The accompanying chili dipping sauce was tangy and sweet. And those Devils on Horseback! Goat cheese and basil stuffed dates, wrapped in bacon, drizzled with a balsamic reduction. This was the perfect balance of tastes and textures, showcasing the sweet, warm date with salty, crispy bacon and creamy goat cheese. A sprig of fresh Rosemary gave it a majestic finish. I enjoyed a glass of Ernesto Catena Padrillo Malbec from Argentina with these appetizers… rich and multi-dimensional, the perfect backdrop to those Devils on Horseback. Leo enjoyed an order of the Chicken Wings: eight wings, slow roasted and lightly fried, tossed in your choice of several sauces; he tried the Jamaican Jerk that packed a powerful punch. (Other sauce options include Datil Pepper, Nashville Hot, Buffalo, BBQ, Honey Mustard, and Mango Habanero).
By 6 p.m. Craft 850 was starting to fill up with dinner guests. By 6:45 pm it was hopping. Aleeta brought us three of the most popular entrees on the menu: Black Sails Pasta, the Fish Tacos, and the crème de la crème, the Montana Rack of Elk. The pasta was handmade squid ink noodles tossed with Gulf shrimp, crawfish and crab swathed in a creamy, white wine-garlic pan sauce. This dish was a peppery explosion of flavors… the most juicy, tender shrimp perfectly cooked al dente in that heavenly sauce topped with thin sheets of Parmesan. The fish tacos were hand-battered local fish topped with Chef's mango salsa, a menagerie of red and green peppers with fresh mango, spritzed with remoulade. The elk is what took the cake for me. Two tender chops of the juiciest meat (served medium-rare) with a complexity of flavor deeper than angus. Aleeta explained that the elk is first prepared with a coriander rub, then cooked sous-vide*, "kissed on the grill" as they say, and drizzled with a black cherry demi. Now, I appreciate perfectly cooked vegetables, and this dish was served with the most delicious local veggies including mashed potatoes, purple, golden and orange carrots, broccoli, green beans, yellow squash and zucchini.
Everything I tasted was inventive, creative, fresh, and made from scratch (and many dishes at Craft 850 can be prepared vegan). As if that wasn't enough, Aleeta then proceeded to bring us two top favorite desserts: the Salted Vanilla Caramel Cake (decadent, lovely and rich) and the Berry & Champagne Sorbet (a magnificent presentation of bubbly slowly poured over the tart, frozen masterpiece).
I love the "Kiss the Chef" option (well, in a manner of speaking). If you loved everything you ordered, and wanted to thank the chefs, you can buy them all a round or a six-pack for only $9 added to your bill. What a great idea, I thought; we bought them a round.
.Craft 850 has an incredible chef-created menu including appetizers, salads, soups, sides, mains (each with a recommended wine pairing) and desserts. Their extensive international wine selection includes many whites, roses, reds, and bubbles. The craft cocktails, Aleeta shared, are – like the food – all house-made from scratch. Offerings like the Hocus Pocus Pear Punch dazzle… pear vodka, vanilla simple, and house citrus served in a cinnamon smoked glass. Or the Apple Cider Sparkler… vodka and muddled red apple with thyme, apple cider, house simple, and citrus with a ginger beer float. French press coffee and espresso are also available.
Craft 850 offers more draft, craft beers than anyone in Panama City Beach (the menu looked to include around 100!). It is located at 7715 Front Beach Road, Panama City Beach 32407. Hours are 4:00 pm to 10:00 pm. For more information call (850) 640-1410 and visit craft850.com.
*Once limited to the pros, sous vide (meaning "under vacuum" in French) is a cooking technique in which the food is vacuum sealed in a bag, then cooked to a precise temperature in a water bath to deliver consistent, restaurant-quality results.