By Marta Rose-Thorpe
Our recent evening at Capt. Anderson's Restaurant & Waterfront Market was spectacular! But then again, I honestly can't remember a time when a visit to Capt. A's wasn't. I've dined and attended various functions at this revered establishment many times since first encountering Panama City Beach, Florida in 1982 as a student. And on each visit the food, service, and ambiance has been consistently outstanding.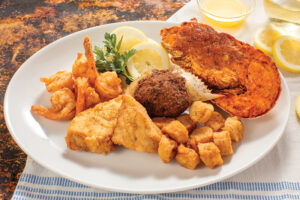 Capt. Anderson's turns 54 years old this October. Back in 1967, Capt. Anderson's was a small eatery serving breakfast and classic Gulf Coast fare, catering heavily to the local fisherman with bagged lunches to take out on the boats with them. Through the years it has slowly expanded, winning the loyalty of millions of customers and friends along the way. The menu now offers a substantial collection of seafood, steaks, and house classics (there are so many "Classics" that the fifth edition of the Capt. Anderson's Cookbook, "Captain's Classics," is now available), gluten-free items, a children's menu, desserts, cocktails, specialty drinks, after dinner drinks, domestic and imported beers, and the massive (and I do mean massive) Captain's Cellar Wine List. Four levels of Wine Club membership are available: Capt.'s Cellar, Grand Cuvée, Private Reserve, and Admiral's Locker. (Go to captanderson.com/wine/wine-club.htm for Wine Club details.) The restaurant's space has grown to 725 seats with two private rooms, the Flying Fish Lounge, and a gift store that sells Capt. Anderson's House Seasoning, Capt. Anderson's Greek Dressing, and fresh seafood, among many other things. Capt. Anderson's currently employs a 177-member staff with the average length of employment exceeding 25 years. This landmark restaurant even started a local tradition years ago, of "Dining early and watching the fishing fleets unload their catch."
Capt. Anderson's has won numerous esteemed awards through the years, including Southern Living's #1 Seafood Restaurant, Wine Spectator's 'Best Of' Award of Excellence, Restaurants & Institutions' America's Top 50, the Travel Channel's Best Seafood Restaurant, and Florida Trend's Hall of Fame & Golden Spoon (the highest honor Florida Trend can bestow upon a Florida restaurant).
My recent visit to Capt. Anderson's was quite different from all the other visits. That evening we had the opportunity to dine with one of the family members, Anna Patronis Moon, who shared some of Capt. Anderson's background and history as well as a few great behind-the-scenes secrets with us. Like, What's a great appetizer? For starters, Anna recommended the Sesame Crusted Ahi Tuna ($14.95). Fresh, rare ahi tuna medallions, encrusted in crunchy, toasted sesame arrived in a beautiful lineup accompanied by wasabi, fresh ginger, soy and the specially imported Terry Ho's Yum Yum sauce. A basket of warm Rice Rolls – our favorite – arrived, and Anna explained what makes them so lovely. Before baking, the yeast rolls are dipped in rice flour, which gives the top of this soft roll a wonderful crackling sensation when bitten into.
Along with the bread, most entrees come with a soup of the day or salad, potato or veggie, and a dish of warm, homemade hush puppies always makes its way to the table. Wine recommendations for many of the dishes adds a nice touch. "May we suggest a bottle of Beringer Luminus Oak Knoll Chardonnay, Napa Valley, with the fresh seafood selections? May we suggest a bottle of Lanson Brut Black Label Champagne with the fried seafood selections, or a bottle of Somona-Cutrer, RRV Chardonnay with any of the pasta dishes?"
A round of Greek Salads arrived at the table, large bowls filled to the rim with fresh, cold, crisp iceberg lettuce (just the way I like it), ripe and juicy, thick-sliced tomatoes, Greek ripe olives, Salonica peppers and Feta cheese. The "Famous Greek Dressing" was savory and delicious (Anna told us all salad dressings are made daily from scratch). My son enjoyed the evening's featured soup, Chicken Noodle, also homemade from scratch with lovely, delicate noodles in a thick, rich broth. And then the entrees. Anna shared that the two most popular items on the menu are the Seafood Platter (friend or broiled, $44.95 with lobster; $31.95 without), which my husband ordered, broiled, and the Greek Style Grouper Imperial ($36.95), which I ordered. (*During the summer months, the most-ordered item is the Jumbo Fried Gulf Shrimp, $19.95).
The seafood platter included shrimp, scallops, fresh grouper, and fried stuffed deviled crab. Everything looked ridiculously fresh and smelled heavenly. And that deviled crab… Anna told us the secret recipe: shredded blue crab blended with onions, scallions, red and green peppers, relish, and Ritz crackers, all stuffed into a crab shell and cooked. My Grouper Imperial was prepared on an open hearth and charcoal broiled, served with lemon butter, olive oil, chopped spring onions and parsley. Perfectly grilled, tender fish drenched with an out-of-this world Imperial sauce with large chunks of tender lump crab meat. Our son had the Grilled Churrasco Steak ($34.95) which was tender, juicy, and perfectly cooked. Anna ordered an off-the-menu secret – the Churrasco steak topped with lump blue crab meat drenched in a creamy, sweet she-crab sauce. The evening's featured vegetable was broccoli… fresh and perfectly cooked al dente, then lightly tossed in seasonings. Our giant baked potatoes' skins were brushed with butter and sea salt, making the exterior a rich, textural delight.
And after all of that, was there any room for dessert? You bet there was! We all sampled the Peanut Butter Pie – a creamy, peanut-buttery concoction in a graham cracker crust (as Anna put it, "Like Reece's Cups on Steroids"), and the Key Lime Pie, a cool, silky sensation of tart citrus in a graham cracker crust. All desserts are made in house, from scratch, daily, as with just about everything.
Capt. Anderson's is open Monday through Saturday at 4:30 p.m. and closed on Sunday. It is located at 5551 N. Lagoon Drive, Panama City Beach, FL 32408. For more information call (850) 234-2225 and visit captandersons.com.