According to Google, the most searched term for 2021 was not coronavirus. It wasn't quarantine, delta, or even antibodies, either. In fact, the most searched term was (drumroll please): NBA.
Yes, though the pandemic is still with us, the focus of world-wide internet users has shifted from virus variants to basketball, AMC stock, and birria taco recipes. It might be worth adding 'vacations in the Sunshine State' to that list, as in 2021, Panama City Beach's visitor numbers blew 2020 out of the beautiful emerald water in all the right ways, generating a 42% increase in the city's 1-percent tax on gross business receipts for this past fiscal year, as well as driving a boost from tourist development tax income, up 93% in April of 2021 over April 2020 (for more on this, see mypcblife.com/pcb-economy-boosted-by-tourism-spike).
Keeping the city sailing smoothly along through another year of sunsets we can thank the team at PCB City Hall headed by Mayor Mark Sheldon as well as Bay County Sheriff's Office (BCSO) under Sheriff Tommy Ford, and Bay County School District with Superintendent Bill Husfelt at the helm. We asked them all to share their thoughts on 2021 and hopes for 2022.
Mayor Mark Sheldon: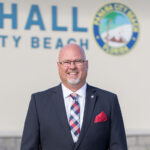 As we jump into the new year, we are excited about all the ongoing activity on Panama City Beach! From our Front Beach Road CRA project to making the beach smell better with odor control measures installed at the wastewater treatment facility, to an anticipated hospital groundbreaking, we know 2022 will be busy.
This year we have potential changes to our outdated City Charter, to bring the City up to date on purchasing, hiring and other operational components. We are excited about the potential to expand our footprint at the Russell-Fields City Pier and we look forward to adding more beach lifeguards to our ranks through increased staffing and our new public-private beach safety partnership with Boardwalk Beach Resort. We are expecting another record-breaking summer this year and good things to continue citywide. This truly is an amazing community we live in and we anticipate 2022 as being another great year in Panama City Beach.
Sheriff Tommy Ford:

As I reflect on the challenges of the past year, I am so proud of the men and women of the BCSO. They rise to any challenge, making sacrifices without complaint. Whether it be COVID related or day-to-day policing, they remain dedicated to serving the residents of Bay County. I am excited for 2022 and unveiling some projects that we have been working on for a while, like Bay ROC. The Real-time Operation Center (ROC) is proving to be a game-changer for law enforcement in Bay County. Also, over the past year, we have worked to strengthen partnerships between all law enforcement agencies in Bay County and the State Attorney's Office, 14th Judicial Circuit. By working together, we are stronger and able to provide the best services to the people of Bay County.
Superintendent Bill Husfelt: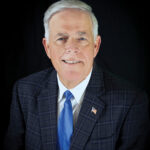 While we all hoped for a return to "normal", last year was obviously anything but that. Despite the continued challenges, however, I am so proud of the way our community continues to come together to do what's best for our children. I continue to be humbled by the dedication, passion and commitment of our more than 3,000 employees and I know that they are determined to get our children through these challenging times with as much grace and compassion as possible. I'd also like to thank all of our first responders, medical professionals, community leaders and others who are making difficult decisions every day to help ensure our collective safety. I am excited about 2022 and the opportunities we continue to have when it comes to rebuilding our hurricane-damaged buildings and ensuring our students have access to the very best educational resources we can offer to them. I appreciate the continued trust and support of our entire community as we do our very best to take care of the children entrusted to us.
————
In the article "Tough Times Never Last, Tough People Do!" Robert H. Schuler said, "We all go through difficulties in life. Sometimes, we just want to give up…. But often, when you look back, you realize that those tough times didn't last. In fact, they did more for you than success or good times ever could do. There's a reason why they say that tough times don't last, but tough people do. It's because when you don't give up, you come away a stronger and more resilient person.
As we look back and say goodbye to a challenging 2021, all of us at Life Media's family of local newspapers send you our most heartfelt wishes for a blessed and hope-filled New Year.