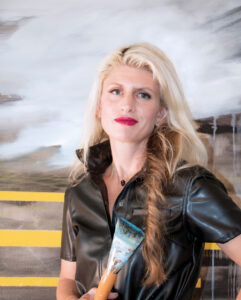 Bay county might be best known for its beaches, but there's more to this popular Gulf Coast destination than sand and magnificent sunsets. Explore beyond its sandy frame and find an arts scene that eschews prints of sea turtles and sand dollars in favor of more contemporary pieces, like those of local artist, Jamie Zimchek. A transplant from the West Coast, Zimchek spent time as a journalist, travel writer, and lecturer, before succumbing to her strong artistic impulses. She studied oils under a realist, but strayed wildly, and now describes her mixed-media works as "abstract amalgamations." Though inspired occasionally by coastal scenery, she sees art as something more than seascapes. "For me, art is a kind of analysis, or reframing of information, so it has that component secondary to the art itself," says Zimchek.
Her latest series, Redacted, now on view at Amavida in St. Andrews, approaches this idea with fresh perspective. At first glance, her painted images appear to be skyscapes done loosely in shades of black and white, interrupted by patches of hand stitched, or hand drawn, color. Conceptually though, the series is also intended to explore the human instinct to overlook and remove information that doesn't fit one's personal narrative, and plays with the issue of censorship. It's important to her that art be thought-provoking, and consciousness raising, without falling over the fence of polarization. Another of her projects, a piece titled We Are All Made of Stars, is up through November on a local billboard, part of a Cultural Arts Alliance of Walton County initiative.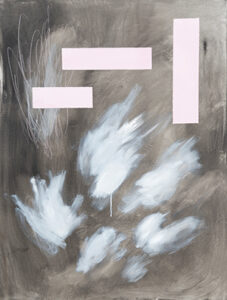 When Zimchek isn't busy getting paint all over everything, you can find her working on a line of minimalist, modern jewelry, available online, and at select locations in Seaside, San Francisco, and Atlanta, or a collection of hand-painted clothing in collaboration with designer Nicole Paloma. "I find this really inspiring connection between art making, fashion, and metal-working," she explains. "I know some people prefer to stick with one medium, but I love the interplay between different ideas and how they translate into paint, or silver and gold, or silver and gold paint – just all of it."
This general enthusiasm for the arts at large is something she wants to foster, especially in our tourism-driven region, where a significant portion of the population is transient and might not understand the importance of our permanent community. "In the midst of a pandemic," Zimchek adds, "it's more important than ever to remember the things that can bring us together, and I'd like to think that art might be one of those things."
Find more of Zimchek's work at www.zimchek.com, or find her jewelry on Instagram @jamie-zimchek.