By Dr. Stacy Kehl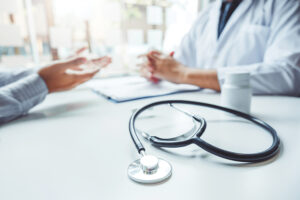 Prevent and maintain.
Have you taken your car in for an oil change lately? I bet you replace the filter in your air conditioner a couple times a year. Heck, we even take the dog to the vet at least one a year. But what about your own maintenance schedule? Life is easy when you're healthy, yet what happens when you're not taking care of that complicated machinery we call the human body? As a Nurse Practitioner who has spent the last 8 years working in a hospital, I've unfortunately seen patients who "suddenly" ended up on the hospital's doorstep with seemingly no indication that they were ill. Their "check engine" light was on, but they ignored it.
99% of people hate deductibles and copays.
Primary care is the backbone of healthcare. With regular check-ups and health screenings, a primary care provider can often catch a problem early-on, before the problem causes irreversible damage. Left unchecked, high blood pressure, high cholesterol, elevated blood sugar, that mole that "needs to be checked" – these can all lead to more serious diseases and events down the road. So why do so many people go without primary care? Primary care is the cornerstone for disease prevention and health maintenance. Unfortunately, the decision often comes down to money. Our healthcare system most commonly utilizes a model known as "fee for service." This model has it's short-comings, as we all know: inflated bills, networks, and difficult-to-attain deductibles are just the beginning. While the Affordable Care Act (ACA) has lofty goals of insuring everyone, the reality is that not everyone is insured. And surprisingly, it isn't always because of lack of money. Some people choose to not have health insurance; they make a conscious decision to spend their money elsewhere – perhaps on a mortgage, a car payment or a start-up business. Others pay high premiums for insurance plans that they never use. It can be frustrating, but is there a different way?
Surprisingly transparent.
Direct Primary Care (DPC) offers an alternative to the frustration and expense of "fee for service" primary care. In an agreement between you and your provider, you have all your primary care needs met. Without insurance. Without networks. Without copays or deductibles. And the best part, without surprise medical bills. All your visits, calls, emails, texts, telemedicine, labs and even some procedures and medications can be performed, and are all included, in the DPC membership. In the United States, DPC has been a growing movement by primary care providers to reduce the overhead and red-tape caused by insurance companies whose aim is NOT for the health and well-being of patients, but rather for improving the bottom line of the insurance company. The involvement that insurance companies have inside the exam room is well known; treatments that are deemed necessary by the provider are frequently denied by the insurance company. Providers spend much of their day meeting the demands of insurance companies, instead of taking care of patients.
Cut to the chase.
DPC removes the barriers between patients and the provider by eliminating the need for insurance in the primary care office. Services are streamlined. Providers experience less burnout. Patients get better care for less out of pocket cost. Diseases are prevented or managed. Most DPC providers answer their own calls, texts, and emails directly (no more phone tag!). Appointments are same day or next day. With DPC, the provider truly has the time to get to know their patients and everyone benefits.
Element Primary Care is located at 8406 Panama City Beach Pkwy, Suite K, Panama City Beach 32407. Call them at (850) 708-1623 or visit ElementPCP.com