By Jamie Zimchek, Editor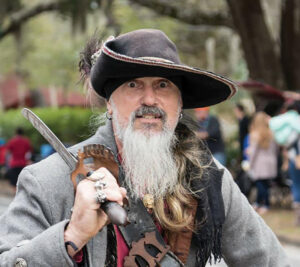 Thar be pirates here in Panama City Beach! You won't find them raiding ships and pillaging booty though – these pirates are busy raising money for local charities and helping keep our beaches clean. In other words, these pirates give those other pirates a good name. But let's not jump the black-powdered gun; first, the back story.
Del McRea, also known by his pirate name, Captain Ransom King Mayhem, wasn't born a pirate. In fact, he's of Irish and Scottish descent, with a long line of ancestors who lay claim to St. Augustine, Florida, as their home of record. It was when his daughter was a student at Parker Elementary School in Panama City that he fashioned himself a Captain Hook costume for a school event. It turned out to be such a hit that he became the school mascot and after that me hearties, there was no looking back. Eventually, he bought his first real pirate garb, and the rest is, well, a pirate's life for McRea. "I fell in love with it," says McRea. "I found out I could be a pirate and forget all my troubles." McRea's brother moved home to St. Augustine in 2008, and, won over to the pirate cause, helped start their first pirate event. This in turn led to many more swashbuckling pirate adventures, and it was also where he met his wife (who has her own authentic pirate garb of course).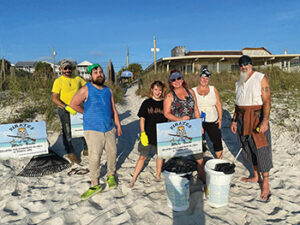 It was clear to McRea that he needed his own local crew, which is how the Pirates of the White Sands (named for the region's spectacular beaches) came to roam the 'high seas' of Panama City Beach. Starting with two crew members, Capt. Ransom has watched his ranks swell over the years to over 30 pirates. As new faces join the crew, they each acquire their own pirate name and authentic garb. McRea explains that their look is based off pirate apparel from the 1600s to late 1700s, and when they make an appearance around town, you can bet that their garb – down to historically accurate weapons – is as authentic as you can get all these centuries later. "I've got 18 swords," says McRea. His number one sword was made by a top bladesmith on the tv show, "Forged in Fire," with special attention to period appropriate details. Occasionally, they even put on a sword fight for lucky onlookers. "We do what's called stage combat," says McRea. "When we get together we do practices and stuff." Should one worry about this swordplay? "It's a little bit dangerous because we're using real blades," concedes McRea, "and there's no formal training." Nonetheless, these pirates always seem to emerge from their skirmishes with all limbs attached – and it makes for a very good show.
All this however, merely sets the stage for their real mission. For these modern pirates, community is the booty, the treasure for their figurative chests. "You want to give back to the community and you want to take care of others," says McRea. These are the things he looks for in prospective pirates. "In order to be a member of Pirates of the White Sands, you have to have the same mentality," he adds. McRea really found this focus the day he saw buses from Margaret K. Lewis School in Panama City – a school for children ages 3-22 with disabilities – pull up to Schooners, a popular beachfront restaurant. As he watched the students unload, McRea ran to ask his boss for a few hours off, grabbed his pirate garb, and dashed off to do what he loves to do: pirate. That day, he met a student who went on to join the crew – he's still part of the 'krewmily,' aka crew that's also family, to this day. And this was really the beginning of a special relationship between Capt. Ransom, his crew, and a host of nonprofits.
Nearest and dearest might be the Tim Tebow Foundation's annual Night to Shine event, a prom night for people with special needs. In 2019, post Hurricane Michael, McRea and his crew stepped in to find a new location for the event, and then proceeded to raise the money for every bit of food, reaching out to local restaurants and even Arnold High School students in the culinary department for assistance (resourceful pirates, thesel). Additionally, they contribute to causes such as the Toys for Kids Foundation, and run the kids' section for Panama City Beach's annual Pirates of the High Seas Fest.
Though the pirates celebrated the Pirates of the High Seas Fest virtually this past October, they hope to be back this coming fall. In the meantime, you might sight a pirate or two around town when they do a business takeover (all in good fun), or head out on a Saturday to conduct one of their regular beach clean-ups. Just don't expect full pirate garb – that weighs around 60 pounds and on soft sand in summer, offers a new and painful kind of pirate torture. Instead look for lightly garbed pirates and their mateys, then raise a glass of grog to these hard-working buccaneers: their generosity of spirit and community contributions makes our white sands a better place. And maybe, just maybe, you'll get lucky and they'll sing you a sea shanty like "The Wellerman" (sugar and tea and rum optional).