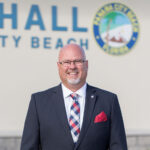 By Mayor Mark Sheldon
It is a good thing to periodically take the pulse of the community and see what the residents think about local government and the services it provides. The recent survey, conducted by National Resource Center, a leading national research firm for the public sector, gave us great results and helped us identify our strengths, weaknesses and opportunities, as perceived by the public. These opinions, as well our recent Strategic Planning process, provide the roadmap for the City's future.
Survey respondents had high praise for those elements of the City that have to do with our quality of life and livability. Eight-nine percent ranked Panama City Beach as an excellent or good place to visit. Eight in 10 of those surveyed praised our shopping opportunities and seven in 10 said PCB is an excellent place to live and retire. Seventy-one percent of respondents said we have a good or excellent quality of life. To many of us who call Panama City Beach home, this comes as no surprise.
Residents also praised our water resources, with 72 percent believing the overall quality of our natural environment is excellent or good. This is important because we have to take care of our number one resource and community asset – the beach.
Public safety was also very highly ranked by our residents who responded to the survey. Ninety-six percent said they feel save in our neighborhoods and another 91 percent said they feel safe in commercial areas. This is great news for our City, as communities with high crime, or the perception of being dangerous, do not continue to grow and prosper.
We also asked residents if they are in favor of a citywide beach lifeguard program to keep our residents, visitors and responders safe. An overwhelming 73 percent said a citywide program is very important or essential. The City continues to work to security condo, HOA and hotel partnerships to help expand our beach safety program.
We were very pleased with the results when we asked you to rate individual services of the City. Public safety ranked the highest, with 87 percent of residents saying fire services are excellent or good and 78 percent ranking police services as excellent or good. Also ranking over 70 percent as excellent or good were ambulance/EMS services, fire prevention, and emergency preparedness.
Our parks, recreational programs and public library, were also ranked excellent or good by more than 70 percent of respondents. Our water and sewer services, debris pick up and garbage collection were also ranked excellent or good by more than 70 percent of those surveyed.
While the City has its challenges in the areas of traffic, mobility and commercial and residential growth, we continue to work on those issues, forging partnerships and developing relationships with agencies like the Florida Department of Transportation and Bay County.
We can all appreciate having a very good quality of life on the beach. We have a lot to be thankful for. As we move into the holiday season especially, we are grateful for our breathtaking sunsets, our mild winters and being able to call our beautiful white, sandy beaches home. We are grateful we live in a safe community with excellent fire, police and parks services. And we are optimistic life on Panama City Beach will continue to improve, that we will move past the COVID-19 pandemic and life will return to normal.
I wish all of you a blessed holiday season.