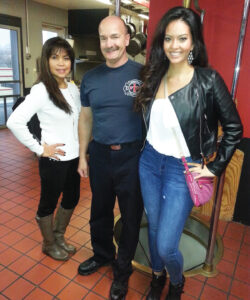 Watchstander Services is a new business serving Panama City Beach and surrounding areas. It is a property maintenance and home watch company that caters to absentee owners who manage their second home or rental properties themselves. Watchstander services acts as the owner's eyes on the ground to keep watch for anything that might go wrong, and quickly mend any problems that might occur.
Jeff Clinger, co-owner of Watchstander Services, has a long history of managing his own properties. He knows first hand the problems that can occur when you are not able to lay eyes on your property regularly. He and his wife, Lisa, spent several years managing their vacation homes themselves while living remotely in Indianapolis, Indiana. Any time a renter of one of their condos would call them to tell them that something went wrong in their unit they would frantically call anyone they could think of to go out and try to fix the problem. They often didn't know who to turn to for help, because they didn't know anyone in the area. When they were able to get in contact with someone to fix the problem, they just had to hope the job was done right, as they were not in the area to physically check on it themselves. All of those years they wished for a service that they could use to help them with these problems.
This is how Watchstander Services was born. Jeff, a retired firefighter and Navy veteran, joked that he wished that there was some sort of Watchstander to stand watch over his condos in the same way there was a watchstander to stand watch over the ships he was on in the Navy all those years ago. He reached out to his daughter Cayla, a realtor, and told her about the idea he had. Cayla had encountered several customers reaching out to her after she had assisted them with purchasing condos in need of this exact service. They have since teamed up together to offer these services to many happy customers in the area.
Watchstander services offers comprehensive weekly or bi-weekly home checks for absentee owners. They check everything from how well the cleaners did for your rental property to how your mechanicals and plumbing are running. When a problem occurs that needs to be fixed, they will perform property maintenance services to get the job done efficiently and quickly. If it is something that is out of the scope of their expertise, they have a long list of local trusted vendors that they will refer you to. They will also work for you as a vendor key holder. If you have a delivery that needs to be made to your vacation home they will let them in and make sure everything goes smoothly. They will then report back to you so that you have peace of mind. They also offer concierge services as well. They look forward to speaking with you, and figuring out how they can best tailor their services to match you and your properties needs!
For more information, call them at (850) 919-5777.