By Brendan Smith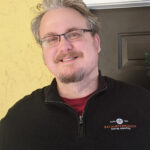 Dancing Goats® Coffee began in 1988, serving locally-roasted Batdorf & Bronson® coffee (which was established two years earlier, in 1986). A few years later, the two beloved institutions merged, paving the way for decades of innovation in the quest to create great coffee.
We are a family-owned, independent business built on doing things the right way. Our long-term relationships with coffee producers around the world provide our wholesale accounts and retail locations with the very best specialty-grade coffee. We offer a wide variety of single origin coffees alongside our very popular blends, developed by a team of highly skilled roasters. Our namesake and most popular blend, Dancing Goats®, refers to the legend of how coffee was discovered…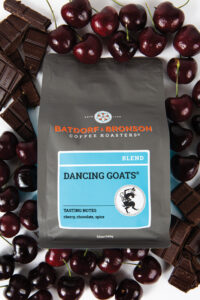 In the remote highlands of ninth century Abyssinia, now Ethiopia, a lone goatherd named Kaldi noticed his goats were full of energy, dancing, and prancing, after eating a small red fruit from a nearby shrub. Not wishing to be left out of the fun, he tried the cherries, and soon he was dancing too. According to legend, Kaldi and his goats had discovered coffee.
Dancing Goats® Blend is our bestselling coffee due to its versatility and accessibility. It is favored among baristas as a well-rounded espresso; it makes for an exceptional espresso shot and is the star component in any milk-based espresso beverage or Americano. As a drip coffee, Dancing Goats® is a deeply satisfying blend that can be enjoyed any time of the day.
From the beginning, we have been committed to producing outstanding coffee, striving to do more than our competitors. We want to do more for our farmers, more for our customers, and more for the environment. When running the day-to-day business of our company, we've used the same attention to detail that we put into perfecting each of our coffees. Dancing Goats® Coffee (under the Batdorf & Bronson® umbrella) was the first 100% green-powered coffee roaster in the United States. We know that as we grow our company, we will continue to have even more opportunities to exemplify what a business could do when it focuses on community and sustainability.
Since then, we have expanded as a wholesale coffee roaster with cafés worldwide and a steadily-growing online business. Our wholesale customers can count on professional trainers to educate their staff and have access to all the supplies a café will need to be successful. We are the only major coffee roaster with a dedicated training department serving Bay and surrounding counties. Our high-quality equipment, skilled specialists, and friendly demeanor provide our wholesale accounts with everything they need to become exceptional baristas. We offer our wholesale clientele the same information, skill, and encouragement that we give our own retail personnel. That means well-rounded training, high-quality equipment, and supplies. We can't wait for you to be part of the way we do coffee!