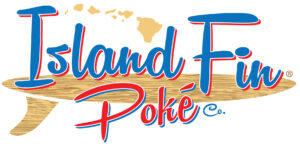 Kurt Fadden and his wife, Eve, are the owners of the new poké restaurant, Island Fin Poké Co located in Pier Park North. The Restaurant serves Hawaiian style poké bowls, as well as Dole soft serve in various flavors. The build-your-own poké bowl experience starts with choosing a base of white rice, brown rice, or spring mix. They then help you choose a mix of proteins ranging from ahi tuna and salmon to spam, with some mix-in veggies and a marinating sauce. They put these ingredients over your base and then you choose from 23 additional toppings to finish off your bowl. They offer catering to offices and events, as well as online ordering and delivery through third party apps.
The couple decided to bring the brand to Panama City Beach (where they live) to help offer more fresh, healthy, and unique food options to the area. It was also important to bring a service centric business to PCB to provide a place of good food and community for locals and tourists alike. Eve grew up in the area, and they have also partnered with Andrew McKelvie as their General Manager.
Their son Josh also works at the restaurant and can be found walking guests through the bowl building experience and explaining their house made sauce recipes to guests. It's very much a family atmosphere! As a team, they are committed to making sure the experience is the same for every guest that walks through the door. Kurt says they believe that "good food is a given, but good service and building relationships is what their business is founded on." This includes walking every guest's bowl and beverage to the table, bussing tables promptly, taking time to converse with guests, and giving every guest a Dole soft serve sample every time they visit. They look forward to opening more locations throughout Northwest Florida and providing this same brand experience throughout the area. Island Fin Poké Co Panama City Beach is currently hiring an assistant manager and additional team members. If you are interested you can reach out to Kurt at Kfadden@islandfinpoke.com.
Island Fin Poké Co is located at 1550 Panama City Beach Pkwy, Suite D-175 in Pier Park North and open daily from 11 a.m. to 9 p.m.