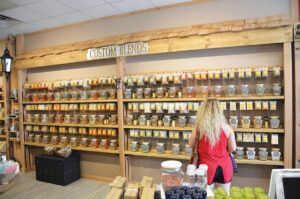 At The Spice & Tea Exchange® of Panama City Beach we offer a variety of fine spices, handcrafted seasonings, loose-leaf teas, salts, sugars, gifts, and more in our store! Guests can roam among the rustic product displays, open the jars to smell the spices and let their curiosity guide them. The "blending theater" allows guests to observe the creation of custom seasonings as they watch Spice Masters weighing and mixing spices right in the store. As visitors and locals alike excitedly explore Panama City Beach's beautiful Pier Park, the alluring aromas of The Spice & Tea Exchange® of Panama City Beach can be enjoyed down the block and beckons guests closer to our warm, inviting shopping experience.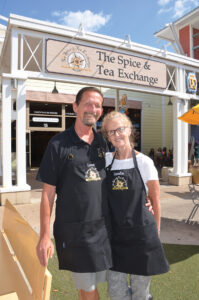 "I love to cook and am what some might consider a foodie, so this was the perfect fit for us," says Lance Boekenoogen, co-owner of The Spice & Tea Exchange® of Panama City Beach with his wife Sandie. "Shortly after I retired from the Air Force, my wife and I discovered The Spice and Tea Exchange® when we strolled into one of their locations in Dunedin, FL, and instantly fell in love. The aromas and huge variety of spices, sugars, teas, and salts, along with all the possibilities were just so appealing. I felt like a little kid in a candy store! We couldn't resist speaking with the owner to set us up with an opportunity to buy our very own franchise."
You can explore gifts and accessories in what we like to consider is the best local gift shop in town. Whether you're new to the culinary scene, own your own food service business, or are simply looking to add a bit of spice to your life, our friendly and knowledgeable staff will help you find the perfect menu additions.
Additionally, if you're a veteran, active military, or a first responder, The Spice & Tea Exchange® of Panama City Beach offers a 10% discount on products as our way of saying "Thank you!"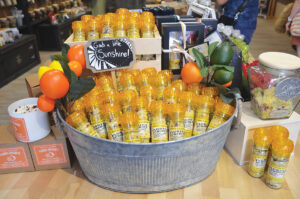 With the first three rules of business in mind: "location, location, location," we embarked on a long and thorough search for the perfect location to open a new store. Luckily, a friend of ours called to tell us about Pier Park and what a great place it would be to set up this type of store. We drove up from south Florida to scout the area and gather some demographics, and with a dash of luck and a pinch of detective work, we discovered there was a perfect space opening within a few months. Needless to say, we jumped at the chance, secured the lease agreement, and here we are! There is nothing else like this store within a 50-mile radius, so we can offer a very unique shopping experience to our guests, and love the opportunity for, as our mission statement says, "creating and sharing the experience of a more flavorful life!"
The Spice & Tea Exchange® offers an abundance of products to choose from, with more than 100 fresh spices, over 70 hand-mixed seasoning blends, more than 30 naturally-flavored sugars and salts from around the world, and more than 80 exotic teas. Recent culinary endeavors have led The Spice & Tea Exchange® to launch several brand-new lines including infused honeys (honey jars, honey straws, and our best selling bourbon honey) as well as fused artisan extra virgin olive oils in 8 delicious flavors (orange olive oil, truffle olive oil, olive oil gift sets, and more!). For more information stop in or visit us on the web at SpiceandTea.com/Panama-City-Beach.