Let your imagination run wild at WonderWorks Panama City Beach! Located on Front Beach Road, WonderWorks' upside-down, grandiose exterior catches the eye of locals and visitors alike. Inside, guests will find over 100+ hand-on, interactive exhibits and attractions to spark the imagination in kids of all ages.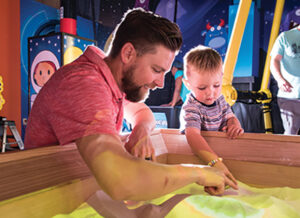 WonderWorks is a science-focused indoor amusement park that combines education and entertainment. Dubbed as "edu-tainment," WonderWorks guests will learn something new without even realizing it. Feel the power over 74 mph hurricane-focus winds in the Hurricane Shack. Make huge, life-sized bubbles in the Bubble Lab. Get the NASA treatment in the Astronaut Training Gyroscope and experience zero-gravity weightlessness. The list goes on and on.
WonderWorks has been a staple in the Panama City Beach community since June 2010. For the last 11 years, WonderWorks has seen countless of PCB visitors, local students, families and more, creating memories that will last a lifetime. The upside-down house continues to be a top-stop for vacationers visiting "The World's Most Beautiful Beaches."
On a local level, WonderWorks and its team works to bring top-tier entertainment to its community for any occasion. The family attraction welcomes groups of all sizes to make outings and special events a bit more WONDER-ful. WonderWorks hosts hundreds of school field trips throughout the year, providing a fun and educational way for students to see the science they are learning in the classroom come to life – and have a little bit of fun while they're doing it!
Local scouting troops can take advantage of the Scout Appreciation Days and Scout Overnights hosted throughout the year, while summer camps, sports teams, and family groups can take a break from the heat and have some indoor family fun. There's truly something for everyone.
WonderWorks is always looking to bring new and exciting exhibits to its attraction. On top of its iconic rides and exhibits, WonderWorks PCB recently added a new Wild Run interactive game and a giant model of the family classic Twister. Think you've got what it takes?
The attraction is also gearing up for the opening of its newest top-tier attraction – "Grave Digger." This new ride will change the way guests experience indoor attractions. With the power of virtual reality, "Grave Digger" will put guests in the driver seat of a Monster Truck for an unbelievably amazing experience. The simulator combines VR, wind effects, pitch and roll movements, music and more to create a totally realistic, 360 experience. This new, exciting attraction is set to open Summer 2022.
If you haven't stopped by the upside-down house recently, you simply haven't been. From PCB locals to out-of-town vacationers, WonderWorks Panama City Beach is a must-see, top attraction with something fit for everyone.