By Brooke Loyed, Principal, Patronis Elementary School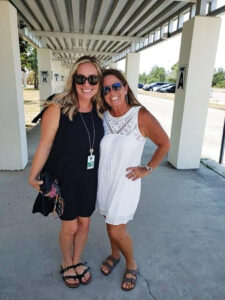 As we begin the new school year for 2021-2022, our school is buzzing with excitement….excitement for a new year and excitement for what we hope to be a "normal" year. I can honestly say we are already getting a head start due to having had a summer full of learning while we hosted a unique summer school for four weeks. We had over 200 students participate in enriching experiences and continued learning.
With our new year comes change which is always bittersweet. On June 30th, Ellie Spivey officially retired after 23 years of leading our school to excellence. We are a blessed school in having had two exceptional principals (Janice Salares was our founding principal before Ellie). I am excited to follow and continue the rich traditions. This will be my sixteenth year at Patronis. I was Assistant Principal for 15 years and both of my girls, Tarver and Tracy, have grown up here. Before Patronis, I was Assistant Principal at Mosley High School and a teacher at Bay High School. Katie McKenzie will be Administrative Assistant and she has worked here for seven years as a fifth grade teacher and leader but also has several years of experience at other schools in ESE and as Student Services Coordinator where she had a hand in guidance, MTSS, interventions, assessments, ELL, 504's and many other administrative tasks. Her daughter Riley can be seen around the school helping every day and Gracie will be here before you know it. Together, we hope to help foster an environment of energy, creativity, safety, and academic strength.
Patronis has always had strong family, community and business support and we couldn't do what we do without them! Our wonderful PTO is off to a great start with planning and preparation. They will be reaching out to parents at Orientation and Open House with ways to get involved. Just recently, we were elated to receive a generous donation from the Johnny Patronis Foundation which will help fund one to one Chromebooks in many classrooms. Patronis was founded as a research and design school and we want to continue growing through technology innovations.
We are Patronis Proud to begin this new year and this new adventure. We invite you to reach out to us. We are always looking for Elevate Bay Mentors and Volunteers. Thank you for supporting Patronis Elementary School….Tradition, Community, Excellence since 1995 and proud to be an "A" elementary school and FLDOE School of Excellence since 2017.