Celebrate the holiday season among exceptional art, the tradition of the Radio City Rockettes, and all of your favorite local artists.
The Center for the Arts will be opening multiple new exhibits in December. The "Life as a Rockette" show will be opened alongside the "Holiday Higby" exhibit to celebrate the season, as well as expanding the gift shop for holiday shopping.
"We said goodbye to our dark, spooky Haunted Higby experience last month and have committed to build a warm & bright experience for the upcoming holidays," said Jayson Kretzer, executive director of Bay Arts Alliance. "Along with our December exhibitions, we'll be showcasing illustrations of the twelve days of Christmas, a miniature Christmas Village, an extended gift shop, and fun photo opportunities throughout the building."
In the main gallery is the celebration of one of America's favorite dance companies through the experience of local artist Sonya Livingston. Get a taste of "Life as a Rockette" with this fun and festive exhibition. Sonya started her professional dance career at the age of sixteen with the Radio City Music Hall Rockettes, where her career spanned twenty-one years. A timeless story told through historic photographs, dazzling costumes, and live dance performance(s) will transport you to Radio City Music Hall where the Rockettes have performed since 1932.
A "Meet the Artists" reception will be held Friday, December 17, from 5 – 8 p.m. to formally celebrate the artists displaying their work in the galleries this month. Complimentary refreshments and wine bar will be provided. Featured local artists this month include Sonya Livingston, Tesa Burch, and Kris Serian.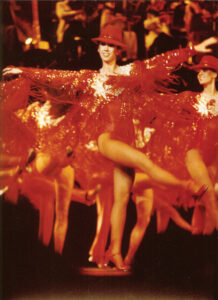 Join us the following afternoon Saturday, December 18, in the main gallery for a free community dance workshop. Experience what it's like to be a "Rockette for a Day'' while Sonya teaches the basics of being a Rockette. All ages and levels of dance ability are invited to learn real Rockette choreography and steps of the iconic "Wooden Soldiers" from 11 a.m. -12:30 p.m. Parents and families are invited to watch the performance at the end of the workshop. The "Life as a Rockette" exhibit will be on display through Saturday, January 22.
Tesa Burch's work will be on display in the Miller gallery until December 25. Her exhibition is titled, "Southern Exit." This show, the new paintings, mostly run a theme of longing or holding on to something that is gone or going.
When asked how she came into her style of art, Tesa responded, "My art is like a diary to me. My experiences. My process. It developed out of my sketchbooks in a big way. I depict the things I think are interesting or poetic. I often chronicle how I feel and try to say things I hesitate to say out loud with it. My collage style comes from what I like to collect and my personal style."
Having explored all manner of water based paint, collage, and assemblage media, Tesa incorporates a lot of second-hand materials into her art pieces. Some of the media and materials you can expect to see in this show include alligator skin, snakeskin, starfish, rhinestones, road reflector dust, dirt, fabric, furs, mirror, watercolor, oil, and acrylic.
Featured in the café gallery this month is artist Kris Serian. When asked about how she got her start with her artistic journey, Kris stated, "About 12 years ago, my husband died suddenly and I lost my way. A friend of mine introduced me to art with Victoria Bush at Bay Art and Frame. Initially, I went to stop everyone from pushing me. I started with a palette knife because I knew I couldn't focus on the intricacies of brush work. I fell in love with painting."
Though painting started as an escape for Kris, she soon became inspired to continue developing her craft, taking inspiration from many sources like an old truck, a boat, or flowers. "Just about anything inspires me and then I want to capture it," said Serian.
The Center for the Arts will be closed December 24, 25, 31, and January 1 for the observed holidays, as well as January 3-7 of 2022 for the Bay Arts team creative summit. The Center will reopen January 11 at regular hours. Open hours are Tuesday-Saturday, 10 a.m. – 5 p.m., and Friday, 10 a.m. – 7 p.m.