By Jamie Zimchek
When it comes to picking the perfect place to spend your golden years, there are a number of reasons Panama City Beach beats out the competition (from the balmy climate to the area's stunning beaches). But this fine coastal community has more to offer than just sun and sea. For one, there's the Panama City Beach Senior Center, a centrally located facility a hop skip from the Panama City Beach Public Library and next-door to Lyndell Conference Center. Run by the Panama City Beach Senior Service Foundation with Mugsy Parens at the helm (Parens also heads up the Lyndell building), the foundation keeps life lively for members between long days on the sand, even during the summer months.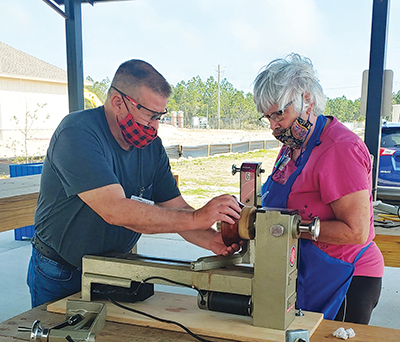 Given, things get particularly busy during the winter when snowbirds descend from chillier destinations to the north, but there is no shortage of off-season activity, with a to-do list that include games, crafts, and exercise. Membership is open to those 50 and older, and runs only $50 a year for access to classes and events. Though some courses come with a slight surcharge for specialty supplies, it's still a bargain when you realize this modest sum will get you from yoga to stained glass to knife carving and bridge via line dancing, painting, bongo and much more.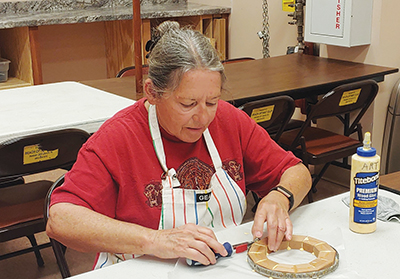 In addition to serving as president to the foundation, Parens personally teaches the Broken Jewelry Art Class, which offers a delightful upcycle/recycle option for pieces that otherwise might be cast away (broken jewelry donations welcome). Also on board this year is a stained glass class taught by Susan Bernhard. Even if you have zero experience with glass – stained or otherwise – Bernhard offers everything you need to get started with something suitable for beginners. Crafty types always enjoy Judi Burke's Flow Painting class, which revolves around creative paint pouring for a surreally swirled finish. Musically inclined members won't want to miss the Beach Bums Ukulele group led by Jody Wood-Putnam that meets Fridays at 1 p.m.; there's been such enthusiasm for this course that they've added a beginning ukulele group Fridays at 12:30 p.m. "Our Beach Bums have recently been bringing music and joy to the area Senior Living communities including Superior Residence, Seagrass Senior Living and Pruitt Healthcare," adds Sue Peipert, who handles memberships and many other things at the senior center.
Another crowd favorite is Woodworking with Ralph Thurston. "He's a woodworker, just amazing," enthuses Parens. Because of the class's devoted following, the enrollment cap is set at 10 to avoid overcrowding and "too much craziness." Over the past few years, the center has acquired a number of woodworking tools, including two lathes, which Thurston uses for classes when he returns each fall to teach. A popular project is bowl making – starting from just a block of wood. This is one of those classes that carries a minimal monthly fee to cover supply costs, arguably worth every penny. "He knows his equipment," says Parens. Already made enough wooden bowls? Members can sign up for different days, outside of classes, to use the equipment and pursue personal projects. Knife carving offers another option for woodworking aficionados, and beginners jump right in by learning how to hand carve a relief image from a small wood block.
Looking to get more involved in the community? The PCB Senior Center also has that covered with a range of volunteer activities that benefit the city and help "keep the lights on" at the center. For several years running the senior center has handled registration for Ironman when it comes to Panama City Beach each fall. "And we just did the UNwineD for the tourist development council," adds Parens. Often their volunteer work leads to a donation for the foundation, but they also work to stay funded with grants and donations from local organizations such as Bay Point Women's Club. Coming this October is a special performance at the Todd Herendeen Theater, featuring dinner and Herendeen's "Legends Show." Herendeen is known for his covers of crowd-favorites including Johnny Cash, Neil Diamond, and Elvis. Proceeds will go to benefit the PCB Senior Service Foundation. "I'll tell you what," says Parens, "you need to go see that show."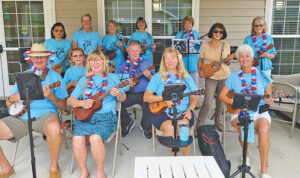 Anyone interested in volunteering to teach a class can contact the center. Potential additions to the calendar are presented to members; if there's enough interest, new courses will be added accordingly. Interested in other ways to contribute? Right now, the senior center is supporting Sally Sparks with An Angel's Pantry, a food bank servicing families in the PCB area by maintaining tables out front of the center where anyone is welcome to leave food donations. Also, the center has its own "bring one take one" library, and they accept book donations (anything they don't need will be donated on to others who can use them).
For more information or to register for membership, call Sue Peipert at (850) 233-5065 during business hours or stop by the Panama City Beach Senior Center located at 423 Lyndell Lane, 9 a.m. to 3 p.m. Monday through Friday.