By Clint Whitfield, Principal, Breakfast Point Academy
It is hard to believe that there are only nine weeks of school left in the 2021-2022 school year! In August, we were so happy that our students were returning to school, but we were also anxious about what the year would entail. However, it has brought us joy, excitement, accomplishments, and progress. That is not to say that challenges have not tried to hinder our spirit, but the unity of our students, staff, and school community has united to overcome these and press on! The Stingray community has definitely continued to RISE above as RAYS of hope and sunshine for our Beach community.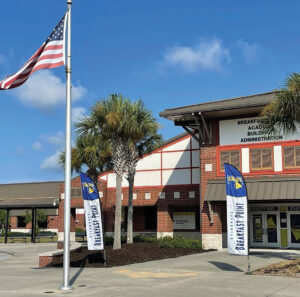 It is important to know that our students have not experienced a "regular" school year because of the hurricane and pandemic-related school interference for four years. Consequently, this has impacted the amount of instructional time that our students have lost in addition to the time spent with a teacher in front of them. This in turn has led to learning loss and gaps in instruction, but our teachers continue to work together to lessen the impact of learning gaps, and I could not be more proud of our teachers and support staff at BPA. Their hard work and determination, paired with the resolve of our students and community, has given us much to be proud of this year!
Our elementary art students have been recognized for their accomplishments, and we were honored to have 13 of our student art projects displayed throughout the county. Our 4th-grade students also participated in the annual Paul Brent Art Show, where four of our students were recognized, and eight other students represented our school as well. Finally, we had 12 students recognized in the Best of Bay contest! We are extremely proud of the artistic abilities of our elementary students, and we look forward to more of their accomplishments!
Our middle school students have been successful in sports and academic competitions this year. Our boys' Stingray soccer team went undefeated again and defeated University Academy 3-0 for the county championship. In the last three years, this team has only lost one game and tied another! These 8th-graders have set a milestone of three undefeated regular seasons in three years and two championships in the last three!
This year, our students competed in local and state competitions, and they have achieved amazing feats! In the annual MathCounts competition, our team placed first in the local competition, and four students placed in the top 10. Conor McCann moved on from the local chapter and placed first in the regional competition! We had three students make the All-County Honors Band, and they did an amazing job cooperating with other students within our schools. Our students won more awards than any other school in the annual Tom Barefield History Fair, and five of those students will compete in the state competition in May. We also had students win special awards in the annual Invention Convention held recently. I think it is safe to say that our middle school students have a wide array of talents, and we are so proud of them. We look forward to our elementary students moving into middle school to continue our traditions of excellence!
We are not just a school, we are a family, and we work together to help each other RISE. One school, one heart, one vision = Every Ray, Every Day!
#RaysRise