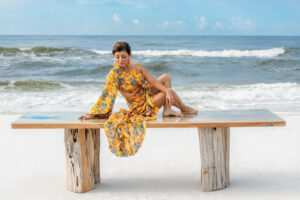 If you are like most of us, then you already know who Marisol Gullo of Not too Shabby is, but in case you don't, let me introduce you. Marisol Gullo, a twenty-year resident of South Walton county, is an attorney by trade and owns and operates her two stores, Not too Shabby by Marisol along with her husband Tony and their eleven-year-old son, Joshua. Marisol was honored with the South Walton Artist of the year award in 2017, and her stores have won Destin VIP Best Furniture and accessories for 2018, 2019, and 2020.
Her newest location is in the beautiful 30Avenue plaza located in Inlet Beach. We had a chance to catch up with her recently to discuss what's new in her life and her predictions for what's to come in the world of design this year.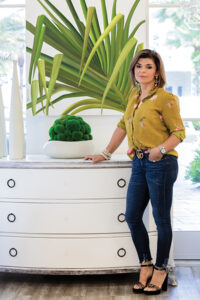 "Well, it's always an honor to win the Destin VIP best of, this was our third year in a row, and being as that is voted on by the people gives me pride to know we're doing things right," she says. " I have always had a passion for art and design, and with the influx of new homeowners that are moving to the area right now, I've really been fully immersed in the interior design aspect of the stores. We specialize in the look for the area, which many new residents tend to think is a "beachy" look, but it's not. The look for our area is Coastal and believe me when I tell you it's a big difference. It would be unfair though to expect people to know how to put that look together, and that's why people come to us."
We asked Marisol how she was doing, keeping up with the pace of all the new people moving to town, and if she felt like it would continue or slow down. This was her response. "I've been here for over twenty years; I saw what happened to us in 2009 when the bubble burst and I don't think we are looking at the same bubble. Back then people were just flipping properties with no end users. That's not what's happening here now. These are real end users. These are people leaving those crazy cities that are still on lockdown or cities with a lot of civil unrest happening. These are good people realizing they don't have to live in those places anymore because a lot of people can now work remotely. The challenging part for us is to make sure we continually have plenty of inventory for our customers to go home with right away.
Visit Not Too Shabby by Marisol at their original location in Miramar Beach, 9755 US Hwy. 98 W., Miramar Beach, FL 32550, (850) 419-3976, or their new location at 30Avenue, 12805 US. Hwy 98 E., Inlet Beach, FL 32461, (850) 520-2390. Open Monday-Saturday 10 a.m. to 6 p.m., and Sunday 12-5 p.m.