By Bay Arts Alliance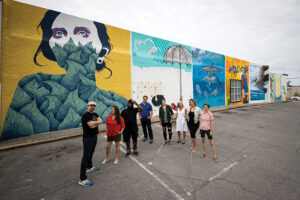 The Bay Arts Mural Program is about to complete the biggest mural to date. It is located on the side of Ocean Oriental Market on 6th Street and Harrison Avenue and has been named "the Welcome Wall."
The wall features eight local artists who are longtime fixtures of the arts community. The artists were each assigned a section to create art in their own unique style, essentially creating eight different murals on one wall.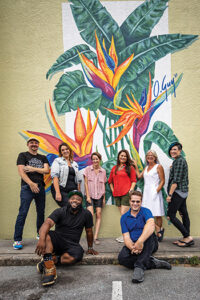 "We've been planning and working on this mural for a year now, and we are so excited that it's finally becoming a reality," said Jayson Kretzer, executive director of Bay Arts Alliance. "This wall is the perfect place to introduce locals and visitors alike to the amazing and diverse group of artists we are lucky to have here in Panama City."
The artists who are featured on the wall are: Heather Clements, Christon Anderson, Joyful Enriquez, Jayson Kretzer, Paul Brent, Olga Guy, Christence Taylor, and Heather Parker.
"Murals are very expensive undertakings between artist fees, supplies, protective coatings, and equipment," said Jayson. "We would not have been able to paint this mural without the support of the owners of Ocean Oriental Market, the Downtown Improvement Board, and the incredibly generous donation of a boom lift by United Rentals. We can't thank them enough!"
"Public art is a priority for downtown so it's only natural that the DIB supports the mural program," said Catherine Shores, a DIB board member and downtown building owner. "This program, implemented by Bay Arts Alliance, has brought us three so far, with many more on the way. Seeing people enjoy these installations is awesome!"
Bay Arts Alliance
Since 1978, Bay Arts Alliance has served as the local arts agency for Bay County. Their mission is to support, promote, and develop the arts as essential to the revitalization and growth of our community. They provide opportunities for enrichment through exhibitions, educational experiences, and quality performances. They are committed to responding to the ever-changing needs of the community, supporting innovation, and connecting endeavors of all arts organizations. Bay Arts Alliance has brought countless national touring performances to the area and was the primary force behind the annual Backstage Pass concert series at the Marina Civic Center.
For more information, visit their website at www.bayarts.org. For artist opportunities go to https://www.pccenterforthearts.com/artist-opportunities.