Are you shopping for cabinetry? There is a checklist you are going to want to have when you're ready to build or remodel your kitchen and baths. First and foremost, it's always a good idea to get a kitchen designer at the beginning of your project whether you're building a new home or rebuilding to ensure your dream results. Wood type, color or stain and door style are next on the list and then comes functionality and organization for our busy modern lives. New and exciting modern storage solutions are being created every day.
There are so many options to organize and create not only a beautiful but a functional space. Standard cabinetry will usually come with shelving and unless requested, lower cabinets will not have full depth shelves. Roll out shelves are our favorite accessory for storage in lower base cabinetry and pantries. I know most of us have found items in the back of our lower cabinets or pantries that we forgot we had or maybe expired, lol. Roll out shelves come in all different sizes and variations for organizing food items, pots and pans, Tupperware, etc. and they will change your life. No more lost items in the back of those base cabinets! That is why it is one of our favorite storage solutions. Deep drawers are another great functional option to add to your base cabinetry. Partitions, shallow roll out shelves, peg boards, and two tier cutlery trays can be added to deep drawers to add functionality and improve organization.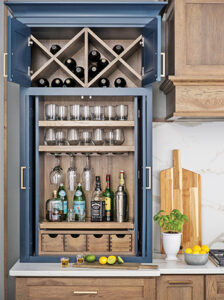 Now if any of you are like me, spices are one thing I need organized in my next kitchen. My husband loves to cook, and we have an astronomical collection of spices. I can't wait to remodel and add some spice organization. There are different options depending on the layout of your kitchen and where you would like your spices to be. Vertical pull out spice racks are a good option. These can flank your range with one on each side, either in the base cabinet or you can flank your range hood in the upper cabinets. Another option is a cabinet with a door rack. The shelving is shallower, and racks are added to the door for options to organize. If your kitchen has a corner cabinet, turntables create functionality for those hard-to-reach areas.
Don't forget about your vanities when thinking about storage. One of our favorite storage cabinets is a vanity grooming rack. Roll out trays are another option for bath vanities.
I've only touched on a few of the modern storage solutions available, so for more ideas visit www.durasupreme.com/storage and www.hardwareresources.com to view options and inspiration for your new kitchen available at Granite Plus. Or, you can stop by or give us a call and we will come to you and discuss your new kitchen and baths.