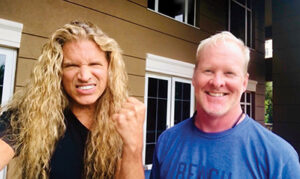 By Will Estell
If there's one primary similarity that seems to exist between creative types and those drawn to the coastal lifestyle, it's perhaps the immense freedom brought on by doing what you want and doing it where you want to be. Finding a way to do either is a monumental accomplishment within itself. However, building a life that includes both following your passion, and living in paradise is, for many, literally the stuff dreams are made of.
One such newly minted Destin resident is veteran singer/writer/producer, and Great White frontman, Mitch Malloy. I recently sat down with Mitch to gain a little more insight on the long-time rocker turned local.
Tell me a little about your musical journey and how it began.

I was born in Dickinson, North Dakota, where I began singing in school plays and church, at about six years old. I was the youngest of six children, and just immediately had a passion for music. I began playing guitar at about twelve, went to music school in Seattle, and then hit the road to Nashville to chase the dream.
You've had quite the diverse musical career, having done everything from your early solo albums that charted multiple Top 20 Hits, to being offered the lead singer gig with Van Halen when Sammy Hagar left, to building a name in Nashville as a talented music producer. What's your favorite part of the business and why?
I really like most aspects equally. I love to perform live. I love to write, and I really like that magic of taking something from raw vocals and music to a completed song and then album. That's what producing is really about, and what drew me to working alongside so many talented artists when I was in Nashville at my studio. I get chills just thinking about that part, the magic, that moment when it all comes together.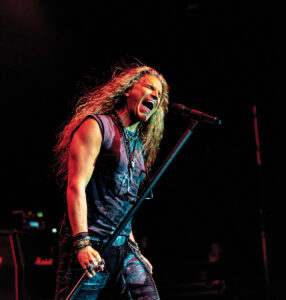 How did the current position as Great White's lead singer come to be, and what's that like after years of solo projects?
I had a friend who knew some guys in the band, and one day he and I were talking and he just mentioned, "Hey, I think Great White could really use you, they're looking for a new singer." It just all worked out. It's been great, and it also allows me to pursue my solo projects, like the new single about to drop, that we recently shot the video for at various locations around Destin.
I know you've lived in Destin full time for just over a year now. How did that come to be, and what led you to these beautiful beaches?
It's a funny story. Some years ago, I was on a tour with Eddie Money, and the guys in management told me I had a weekend off, and asked if I wanted to stay in Alabama with them after the last concert that week. I was like, "No way, why would I want to stay in Alabama for the weekend? I want to fly home." I'm really a homebody. So, I get off the plane the night before the show, take a shuttle to the hotel and don't really know where I am. The next morning, I wake in the room, pull back the curtains and see this beautiful white sand and emerald water. I didn't even know sand looked like that anywhere. I told them I'd changed my mind and wanted to stay the weekend [laughing]. Then I met my wife, Faith, and she had been coming to the Florida Gulf for years since she was a kid. We just started coming often, and one day about two years ago, we just decided it was time to get out of Nashville and live in a place we really love. We couldn't be happier, I don't ever want to leave.
What's your favorite aspect about living where we do and being part of the coastal culture and lifestyle?
You know, it's beautiful and the area's great, but it's also like you and I have talked about. The people are just so friendly, and real and accommodating. Everyone seems so nice here. It's like a melting pot of happy people.
Any parting words for our readers?
Come out and see a show! I really want to play more shows along the Gulf Coast, like my recent Club L.A. acoustic show in Destin, along with doing our larger Great White shows around the country.
Will Estell is a multi-published writer turned editor with over 150 published articles, and over 20 years in publishing. He's been instrumental in bringing nine magazine titles from concept to fruition, as well as serving as editor and publisher on others. Originally from the backwoods of North Mississippi, then rural Alabama, he now makes his home in Destin where he serves as Editor-In-Chief of The 30A Company's nationally sold Beach Happy magazine. When he's not working, he enjoys spending time with his three children, watching live music, creating, and spending time on the sand and water with friends.