By Marta Rose-Thorpe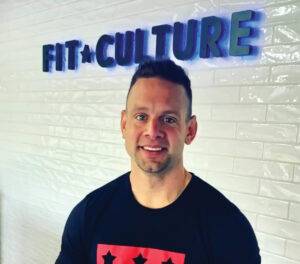 Joel Capra, owner of Fit Culture in Panama City Beach, specializes in Fitness After Forty. As life gets busier and as we age, most people seem to lose consistency in their fitness – or stop the process altogether, he observes. In recent years he has seen a rise in 40 First Timers…those waiting to begin this journey until they are mid-to-late 40s. "I believe your actions and choices today will determine the body you have in ten years," he says.
Originally from Gainesville, FL, Joel received his bachelor's degree in Leadership from the Baptist College of Florida in Graceville, FL. "Being one of the few healthy people at my college, people would ask me to train them and give them nutritional advice," he says. "I heard a message in 2006 that led me to fitness as more than just my lifestyle. The short version is, Whatever you are passionate about is what you are called to do as a career… and do it for the glory of God." After college, he moved to Dothan, AL and opened the first Fit Culture in 2009. After ten years in the business, with family in Panama City Beach, he decided to open a second gym there. The close proximity of the two gyms allows him to travel between locations easily.
Fit Culture, he shares, exists to change lives. "I delved into fitness for the sole purpose of being able to change the quality of people's lives. I believe that consistent exercise, sound mental health, and a stable diet are the first line of defense for personal healthcare. My ultimate goal is to create an atmosphere of warmth and a sense of belonging…a place where everyone feels welcome. Our lives are constantly evolving! Therefore we, as a gym, are constantly offering variety in what we can give our members. We partner with our clients to help establish permanent changes that will increase their quality of life."
Joel believes in making the choice to move a little every day, and it doesn't have to be in a gym. Work in your yard, go for a walk, or maybe even take a swim. Most importantly, take a moment to look beyond distractions. Put your phone down for thirty minutes to step outside and see what the world has to offer!
Fit Culture will be holding the Lean & Mean Bootcamp beginning March 21, a rigorous, four-week curriculum with the mission of getting healthy and fit for summer. The $99 program includes all the workouts, nutritional support, and a t-shirt. 45-minute classes are available at Fit Culture throughout the day at 5 a.m., 6 a.m., 8:15 a.m., 9:15 a.m., 4:30 p.m., and 5:30 p.m.; two to three classes per week are recommended for maximum results. To register, contact Joel at (850) 832-1810 or send a PM to the FitCulturePCB Facebook page.
And save the date for Fit Culture's first annual Bikini Bash & Health Fair on Wednesday, April 20 from 6 to 8 p.m. This free social event will include a showcase of local businesses sharing their health & beauty products and services, healthy snacks and Superfood Cocktails, and live entertainment. Businesses interested in participating may call (850) 814-3822 for more information.