By Joanne MacPhee
As the region's largest non-profit provider of care services, Covenant Care has a unique day-to-day perspective when it comes to the health needs and challenges in our community.
That is why they created the Covenant Care Foundation. The Foundation seeks to bridge the gap between those who have access to standard health care services and those who do not. Their unique programs also address the mental and emotional aspects of illness, often overlooked by traditional health care models.
Through their Foundation, Covenant Care is able to provide a number of unique and very special programs, including My Wish, Camp Connect, Partners in Care, Veterans Covenant Care and Bereavement and Spiritual Care. Most recently, they began offering specialized Palliative Care services at their brand-new Palliative Care Resource Center.
Funded in large part by an exceptionally generous quarter of a million-dollar grant from the St. Joe Community Foundation, the new Center, located on 19th Street in Panama City, offers patients and their families a unique continuum of care, guiding them through every stage of their medical journey.
Staffed by health care professionals, counselors and spiritual advisors, the Center seeks to offer support and perspective to those coming to terms with a life-threatening medical condition. Their specialized team is at the ready to help families navigate the many options available to them in the ever-expanding area of palliative care, while also supporting them as they begin to understand and cope with their diagnosis. The Center's staff are not there to replace, but rather complement, a patient's primary health care provider.
Because Covenant Care is there through every stage of a patient's journey, they can tailor their programs to each family's specific needs. For instance, the Foundation may be able to provide funding to help meet the cost of rent or groceries while a patient is in treatment, or cover the cost of a family member travelling into town to care for a loved one. Their Partners in Care program supports children diagnosed with a life-threatening illness, providing extra services for children and adolescents, while under the medical supervision of their primary doctor. Similarly, their Veterans Program honors and cares for our heroes, understanding their distinctive experiences and challenges.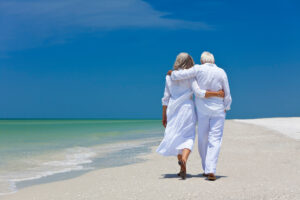 My Wish is a particularly special program that grants wishes to seriously ill patients and their families. Whether their wish is for a family reunion, a wedding, or as in the case recently of a Veteran, one last chance to fly, My Wish volunteers will do whatever they can to make a family's final wish come true!
Meanwhile, Camp Connect is a day camp specifically designed to help children come to terms with loss, providing them with the tools they need to understand and manage their grief. And for all family members, there are bereavement and grief counselling services available.
As Christie Parker, Covenant Care Senior Director of Development points out, all of this is provided at no cost to the patient or their family, thanks to the generosity of individuals, organizations, and companies like the St. Joe Community Foundation. Mrs. Parker notes, "I cannot begin to express our gratitude to those in the community who make our programs possible. The Foundation's programs rely entirely on the generosity of our community and every cent donated goes directly to our programs, the more we raise, the more we can do in our community. In 2019 the Foundation raised and then gave away $1.8 million, and last year, we granted over 450 wishes. The need in our community only grows greater, and we are blessed to have partners and volunteers standing beside us as we seek to meet that demand."
Underscoring the importance of the Foundation's work, St Joe Community Foundation Executive Director, April Wilkes stated, "The St Joe Community Foundation's mission is to enrich the quality of life of the people who live in Northwest Florida and we are proud to have partnered with the Covenant Care Foundation to create their new Palliative Care Resource Center. We actively encourage other like-minded businesses and organizations to join us, as we work together to build a stronger, healthier community."
For more information on the Covenant Care Foundation, the Palliative Care Resource Center or to donate or volunteer, please contact rachel.davis@choosecovenant.org or call 850.785.3040.