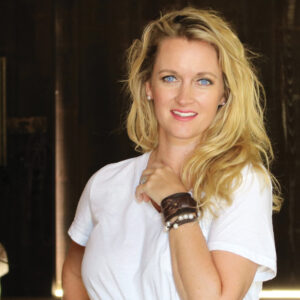 Local singer/songwriter Casey Kearney is celebrating this month with the release of her first full-length original album. The 11-song soundtrack, entitled 'More to the Story,' was produced and recorded in Nashville earlier this year.
When describing her album, Kearney says "This project is extra close to my heart because it took so long to complete and was such a roller coaster to finally get it here. Some of the songs are my personal stories. My husband and I celebrate 20 years of marriage this year so the song 'Make This Work' is one of my favorites. Others like 'Waffle House' and 'Bless Your Heart' are stories of friends and family. The lyrics in 'Little Words' are actual quotes from my Nana who passed away a few years ago and other lines I have heard my whole life that I want to pass to my children."
Many of the musicians featured on the album are seasoned professionals, who usually tour with big name stars like Tim McGraw and Reba McEntire. They were all brought together by award-winning, ACM Producer Doug Kahan, who not only produced the album, but also co-wrote several of the songs, while contributing instrumentally on a number of tracks.
Will Estell, the Director of Publishing for the 30A Company and Editor in Chief of Beach Happy Magazine, praised the album when he stated, "I absolutely love the new songs coming and I think everyone else will too. Most definitely her best tunes and writing."
Although Kearney's much anticipated September promotional tour with The Martin McDaniel Band — said to be 'one of the hottest up-and-coming bands in Nashville in sometime' — was interrupted by Hurricane Sally, the young star and mother of three, plans to live stream a special performance in early October to coincide with the release of the album.
Kearney, who was born in Crestview and now lives in Holt with her husband Scott, is the founder and president of the nonprofit, 'Bands of 30A.' While a regular on the local music scene, Kearney has performed at events all over the country, including Las Vegas, where she played for the National Finals Rodeo (her children are all active on the junior rodeo circuit) and Truist Park, home of the Atlanta Braves, where she sang the National Anthem.
Kearney released her first EP titled 'Faster' in 2016, and 'Somebody's Favorite Song' in 2019. Kearney was named 'Best Country Artist' at the 2018 Beachcomber Music Awards.
"More to the Story" is now available nation-wide digitally, as well as in old-school vinyl, CD and cassette format. For more information visit www.caseykearney.com or find Casey Kearney on Facebook, Instagram, and Youtube @caseykearneymusic.