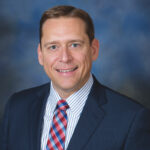 When Chuck Perdue took office as Bay County's Tax Collector in January of 2017, one of his first priorities was to begin focusing on improving the customer service experience and changing the office culture. While many strides have been made in these areas during his first term, he is quick to share that these topics continue to be a strong focus for his team.
"Customer service is one of those areas where we might get it right 95% of the time, but we still have opportunities to improve," said Tax Collector Perdue. "Our desire as a team is to deliver service in a kind, caring and respectful manner, even when those across the counter from us may not be reciprocating a kind, caring and respectful demeanor. It can be a challenge sometimes. Most people who visit our office do not understand the complexity of the work our team performs."
In his first term, Perdue has overhauled many of the systems used by the Tax Collector's Office. The work has modernized the office and brought their internal systems in line with other tax collector offices of similar size around the state. The systems team members have upgraded to new software for cashiering, call center operations, property tax collection and customer queuing as well as rolling out basic office software Microsoft Office, which the team did not have previously.
"I'm really proud of the change our team has adapted to so quickly over the past four years. The changes were very fast-paced and challenging for our team, but they have really embraced the improvements. The aim of the systems changes was to make processing the work easier, as a result of freeing up some of their time, we have been able to provide customer service training to help them in delivering professional service focused on respect, efficiency and competence," said Perdue.
In the midst of all of these changes, Perdue also set about changing the roles of team members. Along with his senior leadership team, Perdue had to build trust with these team members as well as work to nurture leaders and help them feel confident in making independent decisions.
These first four years have certainly been a learning curve for Perdue. "I was eager to start making changes, to make things more efficient. I have learned how true the saying is, "people don't care how much you know until they know how much you care," said Perdue. "I had to take time to get to know team members, not just who they are professionally but the situations they have going on outside the workplace that impact them as well."
Hurricane Michael provided Perdue and his team a crash course in caring for others. "Like so many in the community, several of our team members had their homes destroyed. Finding affordable housing and making sure basic needs were met was the focus for over a year for our team on top of continuing to serve our community," said Perdue. "The past two and half years have been incredibly stressful for our team, adapting to new things at work and then having their lives turned upside down with a hurricane and now a pandemic. We have a strong and resilient team. I'm proud of them. Are we where I want us to be in terms of service delivery and a strong, community-focused culture? No, but I believe we are continuing to make strides in those directions."
For information regarding the Bay County Tax Collector's Office, visit BayTaxCollector.com.