By Jack Smith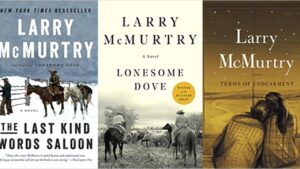 There are two books that actually changed the direction of my life: "Atlas Shrugged," by Ayn Rand and "Lonesome Dove," by Larry McMurtry. As my editor is committed to keeping this paper non-partisan, I will focus on Mr. McMurtry. "Lonesome Dove" is a modern classic and anyone who fails to read it will be worse for it. Captain Augustus "Gus" McCrae and Woodrow F. Call are retired Texas Rangers who decide to organize a cattle drive from Texas to Montana because it has never been done. The town whore, Lorena, decides to accompany them, thus collapsing the fragile economy of Lonesome Dove. The cowboys and assorted characters encountered along the way will be seared forever in your memory. Rarely does a movie or miniseries live up to the book, but Robert Duvall and Tommy Lee Jones make you wish it would never end.
McMurtry wasn't just a one-book-wonder either; other well-known McMurty works include "The Last Picture Show" and "Terms of Endearment." After his friend Ken Kesey (of "One Flew Over the Cuckoo's Nest" fame) died, McMurtry married his widow, Norma Faye; as the story goes, he'd had a crush on her 50 years prior. His final novel was "The Last Kind Words Saloon." This dark comedy features Wyatt Earp and Doc Holiday, and ends at the OK Corral.
McMurtry passed away last month at the age of 84. Upon hearing of his death, it is said that Robert Duvall wept. Though his absence will be felt, McMurtry's books will live on to change the lives of future readers lucky enough to discover his work.