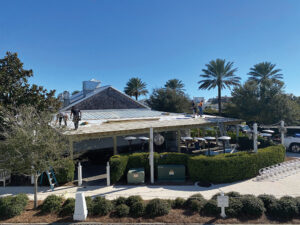 What began as a niche project building custom greenhouses and barns on a midwestern vineyard has since blossomed into a custom framing company that emphasizes craftsmanship. As the construction industry has evolved to focus on prefabricated processes, the art, mystery, and love of the carpenter's craft was seemingly lost along the way; although perhaps not forever. In 2018, Framer Jacks, a family-owned company, was officially named and began breathing life into the local building industry.
While there are many other companies that offer similar services, few have been able to capture the art of the build like the team at Framer Jacks. Consequently, Framer Jacks has emerged as one of the leading framing and siding teams throughout Pensacola, Destin, Scenic Highway 30A and extending into Panama City Beach. With the vision and skill to bring dreams into reality, no project is too big or too small for the Framer Jacks team.
As we all know, our strip of the Emerald Coast is exploding with construction right now. With housing prices continually rising, the need to maximize living spaces for added value has become a priority to homeowners, while builders struggle to keep up with demand for new homes. The desire to create something unique and beyond even the highest of expectations is what fuels the team at Framer Jacks. This company insists on combining only the best of modern structural building sciences while preserving the decorative carpentry craft of old.
Framer Jacks is a group of energetic professionals specializing in new residential framing, custom additions, timber structures, outdoor living spaces, modern Hardie siding, coastal wood siding, and decorative exterior trim. However, the growth of this company won't stop there. Having recently broken ground on their own facility, Framer Jacks is excited to introduce their very own product line to the Florida panhandle. This product line will showcase timber frame structures, pavilion packages, and full exterior trim packages while also offering custom carpentry components such as vented louvers, timber brackets, and decorative corbels.
Framer Jacks focuses on quality, artisanal craftsmanship one unique project at a time. Whether it be a simple pavilion by the pool, a full exterior remodel with intricate details, or a brand new custom home, Framer Jacks' expertly trained carpentry professionals will be happy to schedule a consultation. For more information call Framer Jacks at (850) 603-3356, email construct@framerjacks.com, check out their website at www.framerjacks.com, or follow them on Instagram @framerjacks.