By Joanne MacPhee
If you are looking for superior auto repair service matched by unapparelled customer service, look no further than Aamco Transmission and Total Car Care, located at 21929 Panama City Beach Parkway.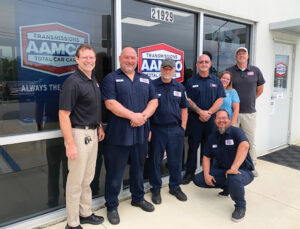 Owner Mark Seifert and his team of Aamco certified technicians are at the ready to assist you. No job is too small or too big, they can provide expert repair and service for your total car care needs. From automatic/manual transmission repair & service, to clutch service and replacement; advanced computer diagnostics, to identifying and fixing all drivability problems, they do it all. They also offer a complete brake service, including replacement brake pads and rotors. And, they service all makes and models, including 4X4s and fleets.
Best of all they are backed by the Aamco brand, known and trusted since 1957, and now with over 600 locations nationwide.
Mark purchased his Aamco franchise just a little under two years ago, after he retired from a career in business management with Publix Supermarkets. For Mark, Aamco was the perfect fit, because in addition to being a well-respected and established brand, Aamco, like Mark, takes great pride in their reputation for outstanding customer care.
As Mark explains "My entire career has been focused on delivering exceptional customer service, and not just meeting, but exceeding my customers' expectations. At Aamco, our entire team is committed to ensuring total customer satisfaction."
One way that Aamco meets and exceeds expectation is in their transmission repair services. Transmissions are often the first thing to go on your vehicle and can be expensive to replace. Aamco's remanufactured transmissions come with a three-year, nationwide, 100,000-mile warranty.
Mark admits that it can be challenging to find staff who can measure up to the team's high standards, and work can be seasonable but he is also bullish on the market and has plans to expand to one if not two more garages within the Bay and Walton County area in the next few years. So, no matter where you are, you won't be far from your friendly reliable Aamco dealer.
For a full list of services visit their website www.aamcopanamacitybeach.com.