By Marta Rose-Thorpe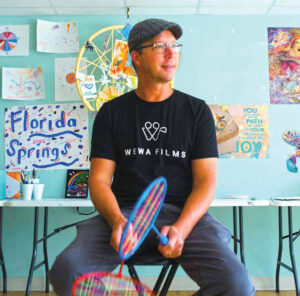 "I was 45 years old before I realized that I was a natural-born producer," states Kevin Elliott during our recent chat about creativity, community, and his current venture, Wewa Films. "I didn't know that being a Producer was a job. We see the word 'Producer,' but no one really knows what that is. My entire life, my talents and skills had never really fit anywhere. I never really clicked in anywhere… until I discovered video production. Being a producer is what my brain was made to do. Walt Disney was not a gifted artist; he was a premier producer. He knew how to bring the right people together. I see talent in people and know how it all can fit together." Kevin lists Disney along with Quincy Jones, David Foster, Jerry Bruckheimer, and Clive Davis as a few of his favorites.
Through Kevin's work at an engineering firm in video production – and later as a professor at FSU-PC – he inadvertently gathered the knowledge and experience needed to launch Wewa Films. "I did video production for transportation agencies," he shares. "I learned over those years to produce video, manage schedules, budgets, all the mechanics and logistics to be a video producer." Later, Kevin taught a public speaking class at FSU-PC where Courtney Gaskin was a student. "I saw a Mumford and Sons video on Facebook and thought it was produced by some big-city production house. Then I realized Courtney had made the video! I was knocked out at how good this video was. I pulled her aside after our next class and let her know how exceptionally gifted she was at this medium… told her she should follow that path. Then she graduated and we parted ways. I would periodically see videos she posted onto FB and noticed that she was pursuing videography."
Eighteen months later, a non-profit video project reconnected them. "We shot one of the scenes at Cherry Tree Elementary School," he recalls. "I saw a vignette that I liked and started to explain the idea I had to Courtney, and she immediately got it, went over to the corner of the room, and started setting up the shot. I realized then – like a lightning bolt – that we share a creative brain. This almost never happens! We kept doing side projects and just fell into sync with each other. Then I approached her and asked if she wanted to start a business together. She agreed, and we formalized the business in 2020, just as the pandemic was starting."
Kevin knew Wewa Films needed to build a portfolio. (Side note: All his best ideas come when he's on his lawnmower!) "What if we made a docuseries called CRAFT," he asked Courtney, "and asked all our artist friends if we could come video them?" So, they did it. Their first episode presented Heather Clements (artist and muralist); the second episode featured Jayson Kretzer (cartoonist and executive director at Bay Arts). "We posted these episodes on Facebook, and my phone just started ringing."
Early on, Kevin knew he needed to scale the business. "We knew from the very beginning it couldn't be just us. We started looking for other talent. Sound production. Editing. Business development. Additional producers. We've been bringing on additional people and we are actively growing." Wewa Films' first big client was the Gulf Coast Children's Advocacy Center. Lori Allen, executive director, needed training videos. She wanted a modern, cinematic feel that looked like a documentary. Wewa Films' client list also includes Florida's Great Northwest, Gulf County Tourist Development Council, Tyndall Federal Credit Union, Destination Panama City, Emerald Coast Theatre Company, and McDonald's. "One day I got a random message from Tracy Johnstone who owned seven McDonald's in Bay County at the time," Kevin shares. "She wanted to tell the story of their restaurants in the area. The first story we told was about an autistic child who loved the Golden Arches and drew them over and over. "Arches for Devon" became the name of this episode, which got attention all the way up to the McDonald's corporate level. McDonald's Corporate gifted the family a car that Tracy presented. That story went national and received 33 million online impressions.
Kevin and Courtney have a very particular style: Heartfelt, cinematic. They enjoy corporate projects and storytelling; stories about the PEOPLE behind their brand, and helping organizations put a human heart behind their name. Kevin also has his eye on moving into "proper" documentaries (the 20-minute variety) and TV broadcast production like an episode about a drug rebab facility and another about one of America's first black McDonald's franchise owners turning 80, whose family wants the story of his life.
The discussion turns to our community, and Kevin's excitement about the metamorphosis of Downtown Panama City. "The storm changed a lot," he acknowledges. "After Hurricane Michael many people – both by necessity and by choice – reevaluated their careers and their lives. They asked themselves, 'Is this really what I want to be doing?' Young people started developing the old buildings downtown. Murals. Boutiques. New brew bubs. Panama City is going through a cultural explosion the likes of 1905 Paris." And he then shares that he and his team are in the early days of putting on a documentary film festival in Downtown Panama City in 2024… the premier documentary film festival in the southeast! The entire festival, he explains, will be walkable, with a variety of venues. Wewa Films is partnering with Jayson Kretzer and Jennifer Burg. "Downtown has such a great soul," he muses. "It's got the right atmosphere, the right vibe, restaurants, bars, culture." Plans are underway for the festival to include a large outdoor gala in McKenzie Park. "We're at a tipping point – the time is right. We want to look back and know that we were here, at the very beginning of this moment."
Reach Kevin at kevin@wewafilms.com.