By Anna McKay
If you've ever found yourself tossing and turning at night because the temperature of your room is making you uncomfortable, you're not alone. Whether you're experiencing night sweats or hormonal complications during pregnancy, no one should be uncomfortable in their own bed. The good news is that there are solutions for hot sleepers that will enhance your bedtime routine so that you can look forward to a full night's rest again!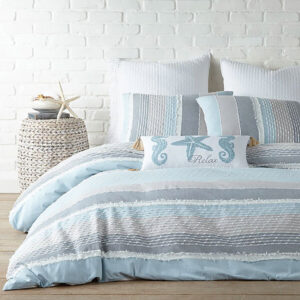 A cooling bed set should be a top priority for someone who is experiencing issues with their body temperature at night. Florida Linen, located in Panama City Beach, has a team of design experts always available to help you select the perfect linens for your home, including custom bedding for hot sleepers. When selecting the correct bedding for you, you should keep these three factors in mind: comfort, value, and temperature control. The key to accommodating naturally-hot sleepers is to choose a fabric that has breathable properties, such as linen, bamboo, or percale sheets. Loose-weave fibers ensure that the bedding is extra soft and moisture-wicking. You should look for something that has fibers that are fine-spun to reduce the humidity in your bed.
A good set of sheets can greatly improve your daily sleep, which will in turn increase your quality of life! One benefit to temperature-regulating sheets, such as those made from bamboo, is that the sheets will not only reduce the moisture in your bed but also keep you cool in the summer and cozy in the colder months. You'll want something that will keep you clean and fully-rested when you wake up. Most people tend to sleep on either flannel or a blend of polyester and cotton sheets, which can cause some people to build up internal temperatures at night since they are not moisture-wicking. While it is a popular bedding choice, it could be causing you to build up heat over a few hours.
There are other factors that you consider when selecting sheets that may not necessarily have temperature control but will enhance your sleep cycle such as hypoallergenic and anti-bacterial sheets. This will reduce the moisture around you, which decreases your chances of getting allergies or dust mites in your bed.
Of course, the look of your bedding is important as well. Lyn Donalson, owner of Florida Linen, and her team strive to provide the highest quality of quilts and stylish bedding for everyone's preferences. There are luxurious bed set options for every size from Twin to King-size. If you're in need of new bedding or you're ready to upgrade to better sleep, head over to Florida Linen and one of their design experts will be happy to assist you and answer any questions about selecting a cozy, coastal bed set for your needs.