By Jack Smith
Southern cooking's international roots run deep. For example, Floribbean. Floribbean cooking is a combination of Floridian and Caribbean cuisines. This style of cooking is found throughout Florida, but mainly on the Southern tip of Florida. Floribbean cooking combines influences from the Caribbean, but also from Hispanic and Asian immigrants who settled in Florida. It's known for its healthier, lighter approach that consists of fresh, often organic ingredients like fish, lemongrass, key limes, coconut, mango, papaya, rum, and honey. Popular Floribbean dishes are stone crab, red conch chowder, and the famous key lime pie birthed in the Florida Keys.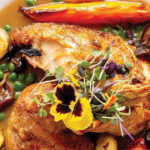 The Grand Marlin
5323 N Lagoon Drive, PCB | (850) 249-1500
www.thegrandmarlin.com/pcb
The Grand Marlin's Chicken & Dumplings offers a delicious tweak to a classic Southern staple using Springer Mountain Farm chicken, ricotta gnocchi, roasted baby carrots, wild mushrooms, caramelized Cipollini onion, sweet peas and white truffle jus. Trust us, even your grandma will want this recipe!
Schooners
5121 Gulf Drive, PCB | (850) 235-3555
schooners.com
Southern cooking is as diverse as those who cook it. The "Drunken Shrimp" Bowl at Schooners combines flavors truly diverse! Seared shrimp drizzled with tequila lime sauce are served over a Southern staple, yellow rice and black beans, then topped with pico de gallo and grated cotija cheese and served with a stunning view of the Gulf!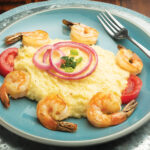 Capt. Anderson's Restaurant
5551 N Lagoon Drive, PCB | (850) 234-2225
captandersons.com
In almost every great memory we Southerners hold close, food was there. Capt. Anderson's Three Cheese Shrimp and Grits is a version of a Southern Classic. Creamy grits with fresh shrimp. Simple and genius.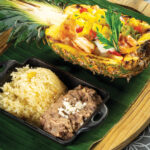 Señor Frogs
15005 Front Beach Road, PCB
senorfrogs.com/panama-city-beach
Come for the food, stay for the fun. Señor Frogs, southern syle: try our most famous Shrimp Pineapple, with the combination of the Gulf of Mexico and the Caribbean. The best medicine for a vacation.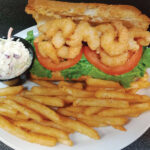 Angry Tuna
1701 S. Pier Park Drive, Suite 155, PCB | (850) 235-4632
angrytunaseafoodcompany.com
Stop by the Angry Tuna for the great taste of local flavors of the Gulf Coast! House specialties to go with your drink of choice include the Seared Tuna Bowl, Tuna Sliders, Tuna Nachos, Colossal Seafood Platter, Peel & Eat Shrimp and many more! Try our Shrimp Po Boy with lettuce and tomato, served with seasoned fries.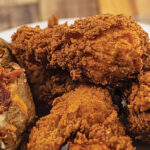 American Charlie
473 Richard Jackson Blvd., PCB | (850) 238-8340
americancharlie.com
American Charlie Grill & Tavern is a new All-American eatery located at The Shoppes at Edgewater from the local team that brought you Firefly PCB. Come in and try our Buffalo Chicken Wings – brined, smoked, and fried crisp. Choice of buffalo, bbq, sweet chili, carolina reaper or firecracker dust.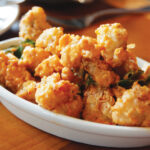 Boon Docks
14854 Bay View Circle, PCB | (850) 230-0005
boondocksfl.com
Relax on the docks while you wait at Fish Tales. Take in the history of our 1941 West Bay landmark, the old fish house, the Buchanan home, and the old bait store, all now part of Boon Docks Restaurant. Look out over the water as you sip on something cold and refreshing and watch the barges go by, the occasional dolphin swim by, even an alligator or two, and our mascots, the ducks and geese, who come in for their favorite – hushpuppies.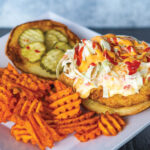 Christo's Sports Bar & Grill
2903 Thomas Drive, PCB | (850) 708-1878
christossportsbarandgrill.com
Come in to Christo's and try our famous Redneck Sammy. Made with hand breaded fried chicken on a brioche bun, topped with coleslaw and homemade pimento cheese, and a drizzle of sriracha aioli on top. Served with our housemade pickles.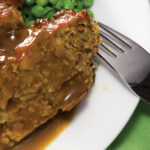 Paparazzi Gourmet Deli
2810 Thomas Drive, PCB | (850) 588-8244
Paparazzideli.com
Paparazzi Gourmet Deli might be famous for its pizza, but their
mouth-watering Southern-style meatloaf with mushroom gravy over rice gives these popular Italian pies stiff competition.